Learning
Get flash to fully experience Pearltrees
Edit Edited by Waited, Ben Rubenstein, Ruslan M, Jack Herrick and 29 others At the World Memory Championships, top competitors memorize the order of 20 shuffled decks of cards in an hour and more than 500 random digits in 15 minutes, among other events. Think you have what it takes? Believe it or not, almost everybody has the capability to perform such amazing feats. Competitive people who memorize don't necessarily have "better memories" than the rest of us; instead, they learn and perfect a variety of mnemonics (memory aids) to improve their ability to quickly learn and recall just about anything.
The method of loci (plural of Latin locus for place or location), also called the memory palace , is a mnemonic device introduced in ancient Roman and Greek rhetorical treatises (in the anonymous Rhetorica ad Herennium , Cicero 's De Oratore , and Quintilian 's Institutio oratoria ). The items to be remembered in this mnemonic system are mentally associated with specific physical locations. [ 1 ] It relies on memorized spatial relationships to establish, order and recollect memorial content. The term is most often found in specialised works on psychology , neurobiology and memory , though it was used in the same general way at least as early as the first half of the nineteenth century in works on rhetoric , logic and philosophy . [ 2 ] [ edit ] Description The method of loci is also commonly referred to as the journey method. In basic terms, it is a method of memory enhancement which uses visualization to organize and recall information.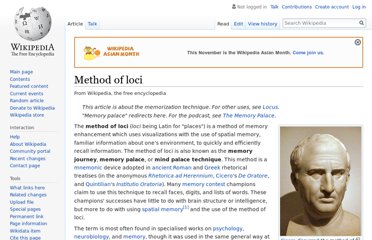 This set of FAQs accompanies MIT's Dec. 19, 2011 announcement regarding MITx. Why is MIT doing this? MIT seeks through the development of MITx to improve education both on the MIT campus and around the world.