Neathnidum
We received a great response from our feature on Klima Hotel (Bella Vista), the semi-sumerged underground hote in Bozen, Italy, so we were pleased to come across 6 Fascinating Underground Homes on Inhabitat. Of course, you can't book a stay in these places like you can a hotel, but they just might change your idea of a dream home. Green enthusiast and British football star Gary Neville's house-to-be is hidden under the ground, save for the petal-shaped openings that flood the interior with light.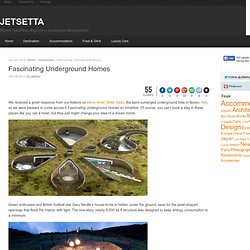 Cavernous but wide open, dark and heavy but bright and spacious, this incredible underound house is the ultimate expression of architectural opposites fused into a single spectacular earthen living structure buried in the mountainous ground of the Swiss Alps. Rather than wrapping outward around the home, the exterior facade circles inward and faces an oval forecourt – a curved impression in the ground like the absent space left behind by a mysterious giant egg. From within, this odd opening frames amazing views of the surrounding green hills and distant white mountains as well as providing a sense of enclosure and security for residents within the home and front courtyard area – a one-sided yet stunning view as opposed to the normal full-surround sights normally expected of a mountain home.
Outside In: Ultimate Underground Swiss Mountain Home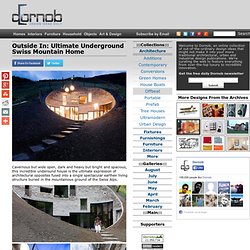 There is growing interest in the use of shipping containers as the basis for habitable structures. These "icons of globalization" are relatively inexpensive, structurally sound and in abundant supply.
Design Art Cartoons Cars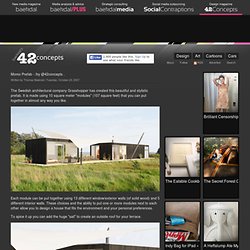 Momo Prefab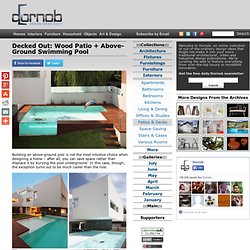 Building an above-ground pool is not the most intuitive choice when designing a home – after all, you can save space rather than displace it by burying the pool underground. In this case, though, the exception turns out to be much cooler than the rule. This backyard pool-plus-patio combination manages to define the space next to it, while also creating an elevated deck platform aside from the sunken green garden to which it is adjacent. Moreover, for a family with small children it provides multiple views down to the pool level and into the deep end for the sake of safety. A set of wooden benches in the lower garden area reprise the dark-stained wood decking of the pool area, while an overhung part of the house hovers over and connects the main structure with the pool (while also providing shade). All in all, this house by?
Decked Out: Wood Patio + Above-Ground Swimming Pool