Technology
Animation for kids - Create animation online with FluxTime Studio.
Converters
How To Technology. Teacher Resources. SideVibe. TodaysMeet. Collaborative storytelling. Secure Social Learning Network for Teachers and Students. Khan Academy.
Prezi. Academic Earth | Online Courses | Academic Video Lectures. TeacherTube - Teach the World | Teacher Videos | Lesson Plan Videos | Student Video Lessons | Online Teacher Made Videos | TeacherTube.com.
Follow Me. The World Question Center 2010. I received this year's Edge Question while in Damascus, shuttling messages from Jerusalem aimed at probing possibilities for peace.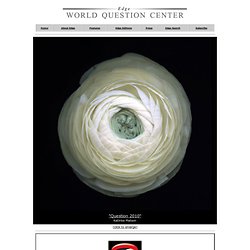 And I got to thinking about how my thinking on world peace and transnational violence has been shaped by the Internet, and how the advent of the Internet has framed my view of human history and destiny. I'm aware that I'm living on the cusp of perhaps the third great tipping point in human history, and that this is an awesome and lucky thing to experience. First, I imagine myself with a small band moving out of Africa into the Fertile Crescent around 60,000 years ago or so, when humans mastered language and began to conquer the globe. More than half a million years ago, the Neanderthal and human branches of evolution began to split from our common ancestor Homo erectus (or perhaps Homo ergaster). Neanderthal, like erectus before, spread out of Africa and across Eurasia.
Flipbook! - Maker. Glogster EDU - 21st century multimedia tool for educators, teachers and students | Text, Images, Music and Video.
---