Beauty and how to...
Out of the ordinary Beauty Tips that work | Cher Cabulas Mindbox. Use toothpaste on yellow nails.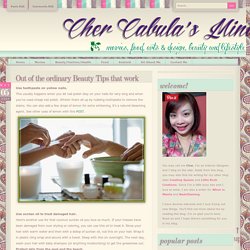 This usually happens when you let nail polish stay on your nails for very long and when you've used cheap nail polish. Whiten them all up by rubbing toothpaste to remove the stains. You can also add a few drops of lemon for extra whitening, it's a natural bleaching agent. The Look - DIY! 7 new stylish ways to de-clutter your beauty closet.
25 Beauty Tips Reusing Household Items - Homemade Beauty Tips on ELLE. 1.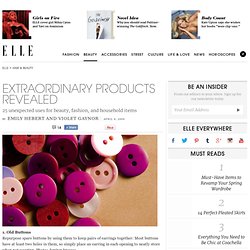 Old Buttons Repurpose spare buttons by using them to keep pairs of earrings together: Most buttons have at least two holes in them, so simply place an earring in each opening to neatly store when not wearing. Photo: Jupiter Images 2. What do you love? 100 Amazing Hairstyles | ~She Exists~ | to Add Colors in Life. We women adore fashion and style.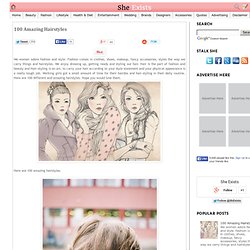 Fashion comes in clothes, shoes, makeup, fancy accessories, styles the way we carry things and hairstyles. We enjoy dressing up, getting ready and styling our hair. Hair is the part of fashion and beauty and Hair-styling is an art, to carry your hair according to your style statement and your physical appearance is a really tough job. Working girls got a small amount of time for their hairdos and hair-styling in their daily routine. How To Style Maiden Braids - A Beautiful Mess - StumbleUpon. Last month I did a makeover story with Kelsie and had many requests for a maiden braid tutorial.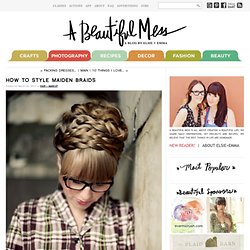 Yesterday she came in and we photographed these simple step by steps. Kelsie has extremely long and thick hair, but anyone with shoulder length or longer can do these braids (see my photo below for an example). Steps 1-2: Braid two strands on each side of a center part. Steps 3-5: Wrap braids around the crown of your head and pin in place with one pin each.
Step 6: Arrange braids so that they cover the front of your head like a headband. How-To: Instant Hairstyles- Do Yourself | ~She Exists~ | to Add Colors in Life - StumbleUpon. Design Crush & Tipped Out - StumbleUpon. Adele Oh I love it!!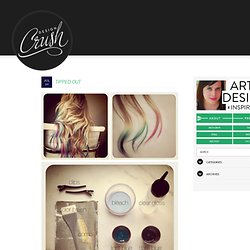 I am blonde, but not sure I would dare do this to my own hair!!!! 07-20-11 » 10:03 am » Addie I absolutely LOVE this…. and if something went wrong, all you have to do is cut it off… Although, from experience, coloring blonde hair is not as great as you would expect… the color fades way faster than you would think b/c when you bleach darker hair, it kind of damages it, so the color really soaks into the hair, with blonde hair, it isnt damaged, so it doesnt soak in as well…Im such a nerd, sorry 07-20-11 » 10:08 am » Paige Seriously wishing I was blonde right about now to do this to my tips! How To Use A Sock To Get Beautiful Curly Hair Without Heat | A Spotted Pony - StumbleUpon.
If you are a mom on the go with long hair you HAVE TO try this.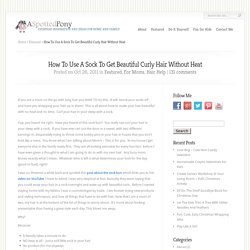 It will knock your socks off and have you wrapping your hair up in them! This is all about how to make your hair beautiful with no heat and no time. Curl your hair in your sleep with a sock. Yup, you heard me right. Have you heard of this sock bun? PIN IT UP, GIRL - thebeautydepartment.com - StumbleUpon. Photo: justin coit for thebeautydepartment.com post designed by kristin ess Our email box is literally flooded with requests for updos so here's a fun one to get us all going!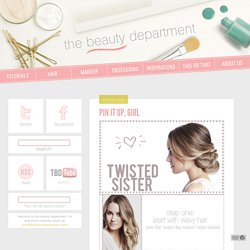 This is always a favorite for attending an event. This updo looks gorgeous on any hair color but particularly amazing with hilighted hair because it gives the hair lots of depth and dimension. Hairy Situation - StumbleUpon. Make-up - StumbleUpon. The Look - 6 secrets I learned at makeup artist school. Total-beauty TODAY Style TODAY Jan. 12, 2012 at 9:50 AM ET.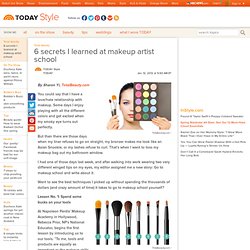 ---