Life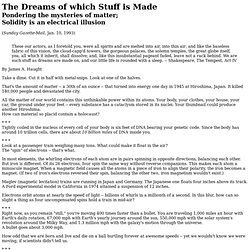 The Dreams of which Stuff is Made Pondering the mysteries of matter; Solidity is an electrical illusion ( Sunday Gazette-Mail , Jan. 10, 1993) These our actors, as I foretold you, were all spirits and are melted into air, into thin air; and like the baseless fabric of this vision, the cloud-capp'd towers, the gorgeous palaces, the solemn temples, the great globe itself, yea, all which it inherit, shall dissolve; and, like this insubstantial pageant faded, leave not a rack behind. We are such stuff as dreams are made on, and our little life is rounded with a sleep. -- Shakespeare, The Tempest, Act IV By James A. Haught
The Dreams of which Stuff is Made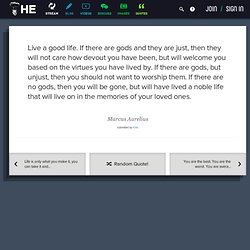 Live a good life. If there are gods and they are just, then they will not care how devout you have been, but will welcome you based on the virtues you have lived by. If there are gods, but unjust, then you should not want to worship them. If there are no gods, then you will be gone, but will have lived a noble life that will live on in the memories of your loved ones.
post written by: Marc Email The Web is grand. With its fame for hosting informative, easy-to-skim textual snippets and collaborative written works, people are spending more and more time reading online. Nevertheless, the Web cannot replace the authoritative transmissions from certain classic books that have delivered (or will deliver) profound ideas around the globe for generations.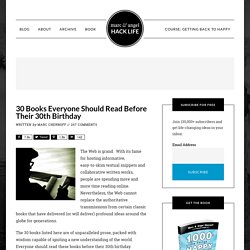 The essence of any good bucket list consists of overcoming fears, achieving goals, realizing dreams and even simple pleasures. Whether it's an exotic adventure half-way around the world or something simpler, like spending more time with your family or friends, what matters is that you experience all the good and phenomenal things Earth offers. Here you'll find 225 things to do before you die. Sure, a few of them are what some might consider to be cliché, but we made it a priority to think mostly outside the box. So, without further ado… 1.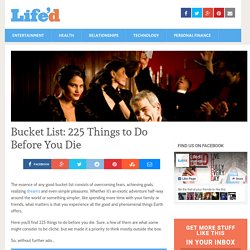 A magnificent, profoundly humane "biography" of cancer—from its first documented appearances thousands of years ago through the epic battles in the twentieth century to cure, control, and conquer it to a radical new understanding of its essence. Physician, researcher, and award-winning science writer, Siddhartha Mukherjee examines cancer with a cellular biologist's precision, a historian's perspective, and a biographer's passion.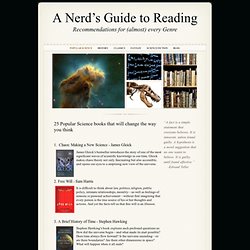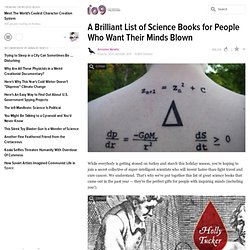 I have not read her book. I saw this interview of her on Colbert, and that was enough for me. From her the interview on the Colbert Report:
Best Books of the 20th Century (3844 books)
Sensa Weight Loss System
We wanted to know which of the IMDB Top 250 movies were available streaming on Netflix. Unable to find any sources online and unwilling to resort to manual searches, we built this page as a utility. Here it is for your benefit--free! This page works by scraping IMDB's Top 250 list and then querying each entry against Netflix's public API. NOTE: Even though we have no affiliation with them, we strongly recommend InstantWatcher.com for finding cool Netflix streaming films.