Art
Guo Xi's Early Spring
Amazing Pencil Carvings
Occupy the infinite
Funny illustrations
Sistine Chapel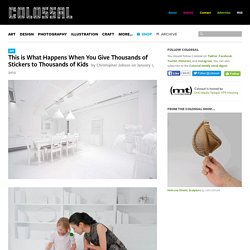 This December, in a surprisingly simple yet ridiculously amazing installation for the Queensland Gallery of Modern Ar, artist Yayoi Kusama constructed a large domestic environment, painting every wall, chair, table, piano, and household decoration a brilliant white, effectively serving as a giant white canvas. Over the course of two weeks, the museum's smallest visitors were given thousands upon thousands of colored dot stickers and were invited to collaborate in the transformation of the space, turning the house into a vibrantly mottled explosion of color. How great is this? Given the opportunity my son could probably cover the entire piano alone in about fifteen minutes.
This is What Happens When You Give Thousands of Stickers to Kids
Heike Weber Installations
The PEN Ready Project from Olympus
intro page : GUY LARAMEE
The Art of Paul Kuczynski
Ana Somnia - lights out!
11 Pencil Vs. Camera Images
Amazingly Creative Drawing Vs Photography