Nateroub
Nate Roub
"Whatever affects one directly, affects all indirectly" -MLK Jr.
BookMooch: trade your books with other people. Trade Used Books for Free with PaperBack Swap (the world's largest book swap) Authorama - Public Domain Books. FullBooks.com - Thousands of Full-Text Free Books. Learn English, Spanish and German for free. Commencement Speech. A cache of over 40 letters reveals the artist's humour and imagination ...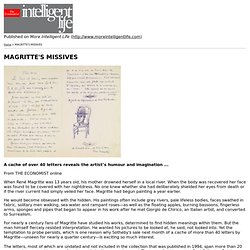 From THE ECONOMIST online When René Magritte was 13 years old, his mother drowned herself in a local river. When the body was recovered her face was found to be covered with her nightdress. No one knew whether she had deliberately shielded her eyes from death or if the river current had simply veiled her face. TED: Ideas worth spreading.
Education. Sanctification. Getting started. Project Glass: One day... Pearltrees videos.
---