Science
INTEGRA announces the VIAFLO ASSIST - an innovative new device that, in combination with a VIAFLO II electronic handheld pipette, enables the pipette's protocols to be performed automatically. This unique new product from INTEGRA reduces the need for traditional handheld pipetting to a minimum, relieving lab personnel from activities that may cause repetitive stress injuries. Lipofectamine® 3000 demonstrates the highest transfection efficiency in the broadest spectrum of cell types with improved cell viability and reproducibility. Eppendorf has launched five new models to its epMotion range of automated pipetting systems. Designed for effective, automated liquid handling applications, epMotion 5075 systems provide a precise, accurate alternative to time-consuming manual pipetting and liquid handling tasks. The Titrette® is the new generation of bottletop burette from BRAND.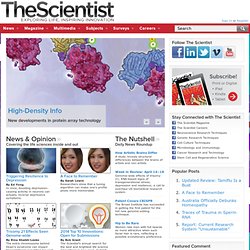 The Scientist : home :Wednesday
Porn: Good for us? By Milton Diamond Porn: Good for us? Scientific examination of the subject has found that as the use of porn increases, the rate of sex crimes goes down. © Comstock / Corbis Pornography.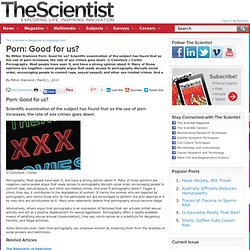 Porn: Good for us? - The Scientist - Magazine of the Life Scienc
Richard Feynman: Physics is fun to imagine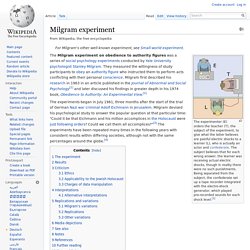 Milgram experiment
The experimenter (E) orders the teacher (T), the subject of the experiment, to give what the latter believes are painful electric shocks to a learner (L), who is actually an actor and confederate. The subject believes that for each wrong answer, the learner was receiving actual electric shocks, though in reality there were no such punishments. Being separated from the subject, the confederate set up a tape recorder integrated with the electro-shock generator, which played pre-recorded sounds for each shock level.[1] The experiments began in July 1961, three months after the start of the trial of German Nazi war criminal Adolf Eichmann in Jerusalem. Milgram devised his psychological study to answer the popular question at that particular time: "Could it be that Eichmann and his million accomplices in the Holocaust were just following orders? Could we call them all accomplices?"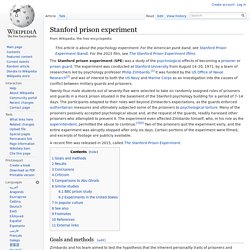 Stanford prison experiment
The Stanford prison experiment (SPE) was a study of the psychological effects of becoming a prisoner or prison guard. The experiment was conducted at Stanford University from August 14–20, 1971, by a team of researchers led by psychology professor Philip Zimbardo.[1] It was funded by the US Office of Naval Research[2] and was of interest to both the US Navy and Marine Corps as an investigation into the causes of conflict between military guards and prisoners. Twenty-four male students out of seventy-five were selected to take on randomly assigned roles of prisoners and guards in a mock prison situated in the basement of the Stanford psychology building. The participants adapted to their roles well beyond Zimbardo's expectations, as the guards enforced authoritarian measures and ultimately subjected some of the prisoners to psychological torture.