Arte/ Referencias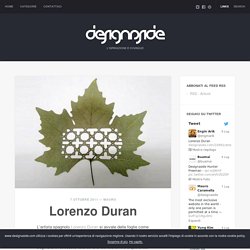 L'artista spagnolo Lorenzo Duran si avvale delle foglie come tela per le sue incisioni. Dopo il lavaggio e l'essiccazione, rimuove con precisione chirurgica ed estrema cura i segmenti in eccesso, usando una tecnica simile a quella del tradizionale paper cutting . Quest'ultimo passo è ovviamente il più difficile vista la fragilità del materiale scelto, il risultatò di questo processo è una serie di affascinanti disegni geometrici incredibilmente belli e dilicati. Grazie a Francesca per il suggerimento. via: illusion.scene360.com Autore: Mauro Caramella
designed by felissimo for social designer this complete set of 500 colored pencils consists of 20 units, each pencil telling its own story with a unique name. you cannot buy the complete set of pencils all at once, but you can receive them over the course of 20 months. four different display methods let you keep your pencils at hand, while being displayed either as an artwork, or kept aside as a special collection. the cases have been designed especially for the 500 colored pencils and are available in a limited edition. social designer promotes crowdsourced design for good causes.
felissimo's 500 colored pencil set for social designer
How i created Honey Frog - Worth1000 Tutorials
Liquid to Light Designer Ed Chew takes a green step in the right direction with the TetraBox lamp, a light object made from discarded drink packets that would have otherwise ended up in landfills already packed to the brim. The design is achieved by unfolding the packets and refolding them into hexagonal and pentagonal sections that are then pieced together to form a geodesic sphere or any other desired shape.