Artists
Illusory dreams; gallery
William Li - Official website Fenyx
Pitre Fine Arts
Julie Bell & Boris Vallejo
26 Jan 2010Hi all, happy new year!~ For updates please check my deviantART & blog (Chinese). I've also released a small booklet - Kuang Hong Postcard Collection 10 Aug 2008I just moved back to Shanghai, about time for a change of environment again. Please look forward to new works I'll be updating!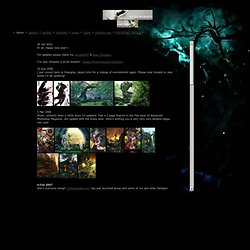 The Art of Kuang Hong [zemotion.net]
Fairy, and Fantasy Art Prints by faery artist Jacqueline Collen-Tarrolly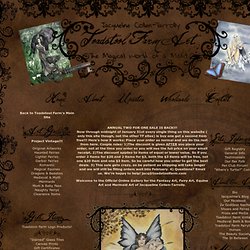 Welcome to the Official Online Gallery for the Fantasy Art, Fairy Art, Equine Art and Mermaid Art of Jacqueline Collen-Tarrolly. New Painting, 'Faelines" Click here for more information! You have entered the magical world of a misfit. Within these enchanted pages arethe original fairy art paintings, prints, figurines, journals, jewelry and gifts of Jacqueline Collen-Tarrolly of Toadstool Farm, painterof fairy, unicorns, mermaids, goddesses, dragons, horses and more mystical fantasy art. Come see The In Between.
CGS Artist Profile - Linda Tso
While the world outside has a rich collection of reference, there is nothing like the web as the source of searchable visual reference, and Linda Tso takes advantage of that resource for mood. "I've saved a lot of beautiful images and paintings from the web," she explains, "and I like to browse through the folders when I have nothing to do. As much as things like music and writing inspires me as well, it's the visual queues that make the greatest impact, and that includes movies, dreams and magazines of any kind. Dreams do inspire me, and if I don't dream I'd somehow feel the time I spent sleeping was wasted. Mirror reference and some quick photos of myself are a help sometimes Also. Then there are the Loomis anatomy books."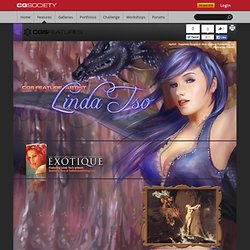 Fairy Art: Faery Linda Biggs Rainbow Fairy Art
New Brow, Contemporary Figurative Realism, Neo-Victorian Illustration, Pop Surrealism & Steampunk Art ~ Brigid Ashwood - HOME
The Goddess Art of Jonathon Earl Bowser
All Images, Text, Music and Videos Copyright, © 1984 - 2013, Jonathon Earl Bowser The content of this web-site is protected by registered copyright. You may download these picture-files to your computer, and if you would like to showcase some of my images on your own non-commercial web-site, then you are invited to do so - as long as you establish a link to my web-site, and provide the following artwork credit: Artwork © Jonathon Earl Bowser - www.JonathonArt.com And I hope that those who do place my work on their web-sites will someday consider purchasing one of the artworks available on my site; fine-art reproductions are available for as little as US$19.95, and an Artist-signed 98-page ArtBook is only US$25. - PRINTING OR REPRODUCING MY WORK IN ANY WAY IS PROHIBITED -(This is a serious matter; they hung the last guy who thought he could steal my work!)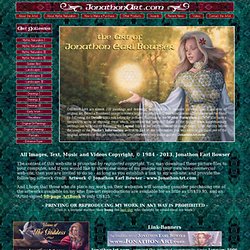 Fantasy and Fairy Artists from around the World
Matt Wilson
furiae
Fantasy Art Gallery
"I am an excitable person who only understands life lyrically, musically, in whom feelings are much stronger as reason. I am so thirsty for the marvelous that only the marvelous has power over me. Anything I can not transform into something marvelous, I let go. Reality doesn't impress me. I only believe in intoxication, in ecstasy, and when ordinary life shackles me, I escape, one way or another.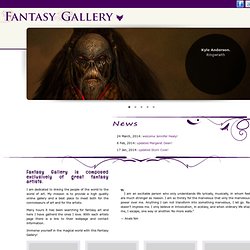 The Art of Meredith Dillman - Illustration, fantasy, fairy and mythological art
Welcome to the official gallery and online store of fantasy and fairy artist and illustrator Meredith Dillman, where you will find paintings of fantasy and mythological themes, fairies, mermaids, angels, and anthropomorphic art available as art prints, limited editions, cards, gifts, and collectables direct from the artist. Welcome to the new site! Take a look around at the newly listed products.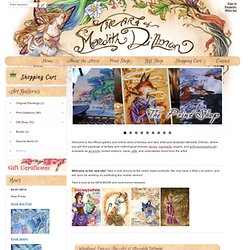 The Art of Jeffrey K. Bedrick - Home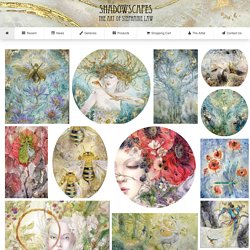 Stephanie Pui-Mun Law - Shadowscapes - Fantasy Art
Holiday Shopping Message The last day for shipping before the new year will be December 15th. Shadowscapes will be closed for holiday shipping from December 15 until - January 2!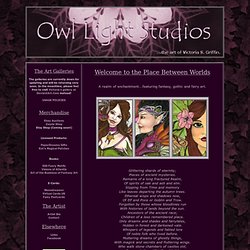 A realm of enchantment...featuring fantasy, gothic and fairy art. Glittering shards of eternity; Pieces of ancient mysteries. Remains of a long fractured Realm, Of spirits of oak and ash and elm.
The Fairy Art, Faery Art, Fantasy Art and Gothic Art of Victoria Griffin.
Henning Ludvigsen - Digital Artist
Ursula Vernon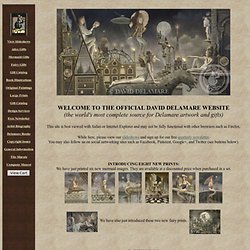 David Delamare Official Web Site (Bad Monkey Productions)
WELCOME TO THE OFFICIAL DAVID DELAMARE WEBSITE(the world's most complete source for Delamare artwork and gifts) This site is best viewed with Safari or Internet Explorer and may not be fully functional with other browsers such as Firefox. While here, please view our slideshows and sign up for our free quarterly newsletter.
Welcome! This site features all of Australian artist and author Selina Fenech's (often mispelled as Selena French) original creations of magic and inspiration, exploring the enchanting genres of fairy art, goddess, pagan, mermaid, unicorn, angel, dragon, myth, fairytale and fantasy art. Come and explore the realms of fairy magic with Selina, and get lost in the enchanted world of her art and young adult fantasy novel.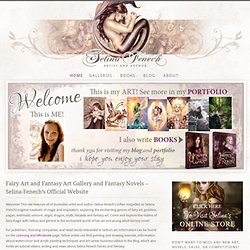 Selina Fenech – Fairy Art and Fantasy Art Gallery
Fantasy art by Jessica Galbreth, faery and fairy art, gothic art, goddess art & more
Welcome to the website of the fantasy artist Josephine Wall
Amy Brown: Fairy Art - The Official Gallery
Faery Art, faeries and illustrations, fae artists from Devon, UK
福岡に住む 福岡県は九州本島の北部に有り、九州では最も人口が多い県です。福岡市は県庁所在地であり、九州では最大都市で、経済・文化・交通の中心です。県内には「福岡市」の他に政令指定都市の「北九州市」があります。「北九州市」と隣接する、本州、山口県下関市などは関門都市圏と呼ばれています。
www.dorianart.com
Index - The art of Steven Stahlberg
For Commissions & licencing, please feel free to contact me : contact@melaniedelon.com Note that I DO NOT work for free, and DO NOT take private commissions. For personal query, like using my artworks for tubes and such, please read the Legal term below.
MELANIE DELON ? ILLUSTRATOR
Clyde Caldwell Online: Gallery
Born in 1963, Linda Ravenscroft is a self taught artist who has been painting since she was very young. until recentyl She lived with her husband John, and animal companions, in the beautiful county of Cheshire, England. Since then she has had the opportunity to follow one of her dreams, moving to the magical town of Glastonbury, "The Isle of AValon" in Somerset. Linda became a professional artist in 1994 after the birth of her daughter Vivien (aka.
Linda Ravenscroft Enchanted fairy art
Brom
Denise Garner - Romantic Fantasy Art Gallery, fairy drawings, paintings and prints at towerwindow.com
jhoneil
Sito ricco di immagini Fantasy, per entrare nel mondo di Camelot, di Peter Pan, Disney e in altri ancora. Home
Targete Gallery
Mary Baxter St Clair, Fairy Artist
Michael Whelan | Science Fiction and Fantasy Artist
The Art Of Maria J. William - main page