Recipes
Home of General Mills' Chex Cereals and the Original Chex Party Mix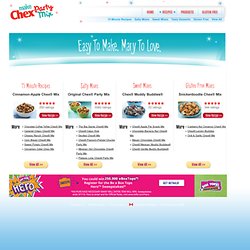 Backyard BBQ Chex® MixSavory Ingredients: 5 cups Corn Chex® cereal 4 cups Wheat Chex® cereal 2 cups restaurant style Caesar croutons 1 cup dark rye chips 1 cup smoke flavored almonds 1/3 cup butter or margarine 2 tablespoons blue cheese dressing 1 tablespoon Worcestershire sauce 1 teaspoon liquid smoke 2 teaspoons onion powder 1 teaspoon garlic salt 1 teaspoon coarse ground black pepper Preparation Steps: 1. In large microwavable bowl, mix cereals, croutons, chips and almonds. 2.
Mexican food and Mexican recipes at MexGrocer.com
Ingredients 2 pounds beef shoulder Kosher salt Freshly ground black pepper Extra-virgin olive oil 2 cloves garlic, smashed 1 large onion, sliced 1 (28-ounce) can crushed tomatoes, (recommended: San Marzano) 1 tablespoon ancho chile powder 1 tablespoon cayenne pepper 1 tablespoon ground cumin 3 bay leaves Vegetable oil, for deep frying 6 fresh medium corn tortillas Kosher salt 3 cups finely shredded white cabbage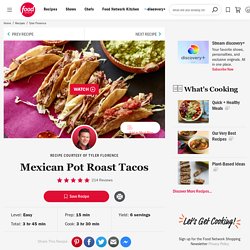 Mexican Pot Roast Tacos Recipe : Tyler Florence
Taco Seasoning I Recipe
Welcome to our Thai recipes section.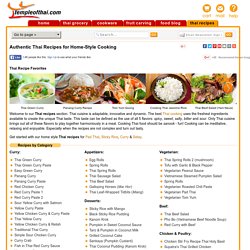 Thai Recipes Home Style from Temple of Thai - StumbleUpon
SHIZUOKA GOURMET
The Japanese Food Report
Savory Pies – Irish Butte Pasties | Pastry Craft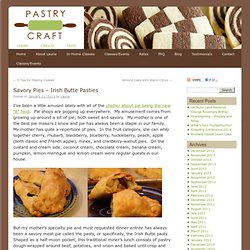 I've been a little amused lately with all of the chatter about pie being the new "it" food.
A compilation of medieval recipes from authentic sources adapted for the 21st century kitchen, along with diverse facts on food & feasting in the Middle Ages & Renaissance and other historical culinary items. On the Internet since November 1997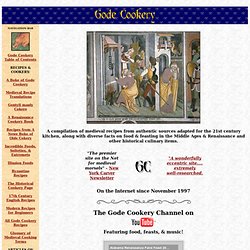 Gode Cookery
List of recipes on Coquinaria.nl/english
Ingredients: 1/2 cup (125 mL) unsalted cashews or walnuts 2 tbsp (25 mL) vegetable oil 4 cups (1 L) sliced mushrooms 1 onion, chopped 1 clove garlic, minced 1/4 tsp (1 mL) each salt and pepper 1 can (19 oz/540 mL) lentils, drained and rinsed 1 tbsp (15 mL) curry paste 1/4 cup (50 mL) dry bread crumbs 1/4 cup (50 mL) chopped fresh coriander 4 slices Canadian Gouda cheese or Canadian Gouda cheese with cumin 4 leaves lettuce 4 slices red onion 4 hamburger buns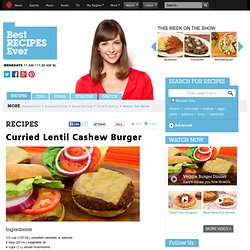 Curried Lentil Cashew Burger Recipe | Best Recipes Ever
Spicy Celery Dry Curry Recipe
Pan-roasted Cauliflower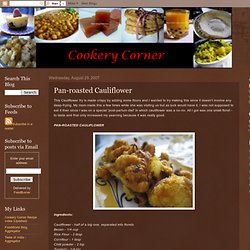 This Cauliflower fry is made crispy by adding some flours and I wanted to try making this since it doesn't involve any deep-frying. My mom made this a few times while she was visiting us but as luck would have it, I was not supposed to eat it then since I was on a special 'post-partum diet' in which cauliflower was a no-no.
Baby Potatoes In Yogurt Gravy/Dahi Aloo » divinetaste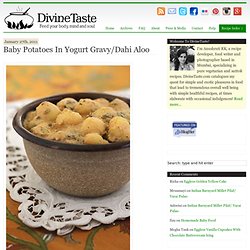 I'm yet to come across people who dont find comfort in potatoes. Cook it up however you want, chop it up however you wish or even smash it up and it rarely disappoints.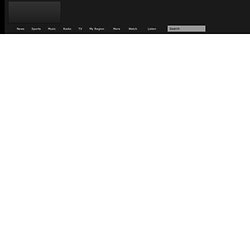 Sweet Potato, Celeriac and Apple Puree Recipe | Best Recipes Ever
This sweet, smooth purée makes a lovely side dish for turkey and pork. Ingredients:
Water Kefir LemonadeMake water kefir and remove the kefir grains. Add 1/4 cup lemon juice to each quart of water kefir.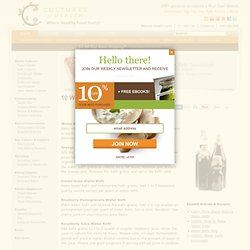 10 Ideas for Flavoring Water Kefir
Baking & Dessert Recipes & Pictures - Joyofbaking.com *Fully Tested Recipes*
Cooking For Engineers
CooksInfo.com
Food Network Magazine Blog
Food Network
GMA Recipes
Bon Appetit Magazine
Cooks Illustrated: Home
Cooking Light | Find Healthy Recipes, Nutrition Tips, and Guides to Healthy Eating
CHOW - Recipes, cooking tips, resources, and stories for people who love food
SAVEUR.com - Authentic Recipes, Food, Drinks and Travel
Cooks.com - Recipe Search and More
Allrecipes.com - recipes, menus, meal ideas, food, and cooking tips.
Accessibility Links Current Weather MontréalChange weather location
Best Recipes Ever
Epicurious.com: Recipes, Menus, Cooking Articles & Food Guides
CopyKat Recipes
Lights, Camera, Cook!: Chef Demos
IGA Recipes
Recipes & Cookbooks – Food, Cooking Recipes from BettyCrocker.Com
RecipeGirl.com
Simply Recipes Food and Cooking Blog
Two Tiny Kitchens
Foodess
Food on Shine