Recipes
Home of General Mills' Chex Cereals and the Original Chex Party Mix. Backyard BBQ Chex® MixSavory Ingredients: 5 cups Corn Chex® cereal 4 cups Wheat Chex® cereal 2 cups restaurant style Caesar croutons 1 cup dark rye chips 1 cup smoke flavored almonds 1/3 cup butter or margarine 2 tablespoons blue cheese dressing 1 tablespoon Worcestershire sauce 1 teaspoon liquid smoke 2 teaspoons onion powder 1 teaspoon garlic salt 1 teaspoon coarse ground black pepper Preparation Steps: 1.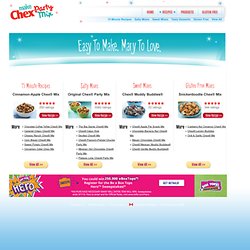 In large microwavable bowl, mix cereals, croutons, chips and almonds. 2. Mexican food and Mexican recipes at MexGrocer.com. Mexican Pot Roast Tacos Recipe : Tyler Florence. Directions Guacamole, recipe follows For the simple salsa: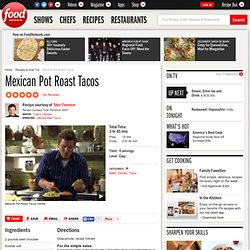 Taco Seasoning I Recipe. Thai Recipes Home Style from Temple of Thai - StumbleUpon. Welcome to our Thai recipes section.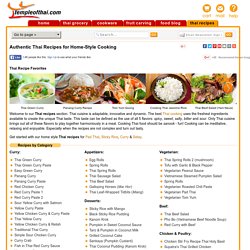 Thai cuisine is adaptable, innovative and dynamic. The best Thai cooking uses the freshest ingredients available to create the unique Thai taste. This taste can be defined as the use of all 5 flavors: spicy, sweet, salty, bitter and sour. SHIZUOKA GOURMET. The Japanese Food Report. Savory Pies – Irish Butte Pasties | Pastry Craft. I've been a little amused lately with all of the chatter about pie being the new "it" food.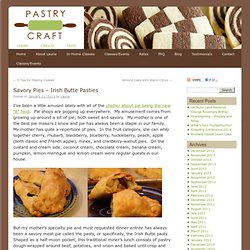 Pie shops are popping up everywhere. My amusement comes from growing up around a lot of pie, both sweet and savory. My mother is one of the best pie makers I know and pie has always been a staple in our family. Gode Cookery. A compilation of medieval recipes from authentic sources adapted for the 21st century kitchen, along with diverse facts on food & feasting in the Middle Ages & Renaissance and other historical culinary items.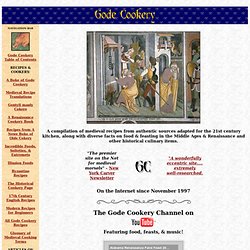 On the Internet since November 1997 The Gode Cookery Channel on Featuring food, feasts, & music! Gode Cookery Website Staff. List of recipes on Coquinaria.nl/english. Curried Lentil Cashew Burger Recipe | Best Recipes Ever. Spicy Celery Dry Curry Recipe. Pan-roasted Cauliflower. This Cauliflower fry is made crispy by adding some flours and I wanted to try making this since it doesn't involve any deep-frying.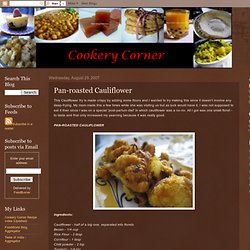 My mom made this a few times while she was visiting us but as luck would have it, I was not supposed to eat it then since I was on a special 'post-partum diet' in which cauliflower was a no-no. All I got was one small floret - to taste and that only increased my yearning because it was really good. Ingredients: Cauliflower - half of a big one, separated into floretsBesan - 1/4 cupRice Flour - 3 tbspCornflour - 1 tbspChilli powder - 2 tspTurmeric - 1/4 tspSalt - to tasteOil - 1 to 2 tbsp Method: Baby Potatoes In Yogurt Gravy/Dahi Aloo » divinetaste. I'm yet to come across people who dont find comfort in potatoes.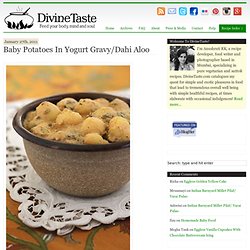 Cook it up however you want, chop it up however you wish or even smash it up and it rarely disappoints. I have many favourite ways of cooking potatoes. Baked until crisp in the oven and topped with olive oil and a mixture of my favourite peppers, baked whole and generously brushed with butter and pepper, stuffed with cheese, made into rosti with cheese, cooked with my grandmother's spice mixture in her own special way, in a coconut based curry and stuffed inside my favourite masala dosa, I can't tell you which of these is a favourite as I give equal marks to all of them in my book.
Served as the main ingredient in a dish, it shines and when served alongside something else, it perfectly complements. How many vegetables have such attributes? Sweet Potato, Celeriac and Apple Puree Recipe | Best Recipes Ever. Red Pepper Recipes. 10 Ideas for Flavoring Water Kefir. Water Kefir LemonadeMake water kefir and remove the kefir grains.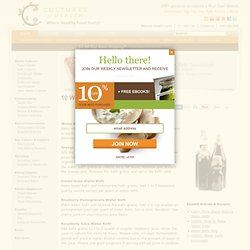 Add 1/4 cup lemon juice to each quart of water kefir. Serve cold. Click here to watch a video demonstration. Orange Zest Water KefirAdd the kefir grains and several strips of organic orange zest (not the juice) to a standard batch of sugar water. It is important to use an organic orange to avoid exposing the kefir grains to pesticides. Baking & Dessert Recipes & Pictures - Joyofbaking.com *Fully Tested Recipes* Cooking For Engineers. CooksInfo.com. Food Network. Food Network Magazine Blog Social Videos Full Episodes Food Network.
GMA Recipes. Bon Appetit Magazine. Cooks Illustrated: Home. Cooking Light | Find Healthy Recipes, Nutrition Tips, and Guides to Healthy Eating. CHOW - Recipes, cooking tips, resources, and stories for people who love food. SAVEUR.com - Authentic Recipes, Food, Drinks and Travel. Cooks.com - Recipe Search and More. Allrecipes.com - recipes, menus, meal ideas, food, and cooking tips. Epicurious.com: Recipes, Menus, Cooking Articles & Food Guides. CopyKat Recipes. Lights, Camera, Cook!: Chef Demos. IGA Recipes. Recipes & Cookbooks – Food, Cooking Recipes from BettyCrocker.Com. RecipeGirl.com. Simply Recipes Food and Cooking Blog.
Two Tiny Kitchens. Foodess. Food on Shine. BESbswyBESbswy Yahoo Food Please enable Javascript.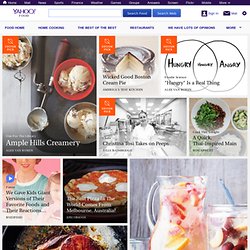 ---