Europe
Habsburg Discussion Network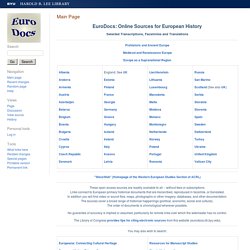 Prehistoric and Ancient Europe Medieval and Renaissance Europe Europe as a Supranational Region "WessWeb" (Homepage of the Western European Studies Section of ACRL) These open access sources are readily available to all -- without fees or subscriptions.
AKA Mary Jones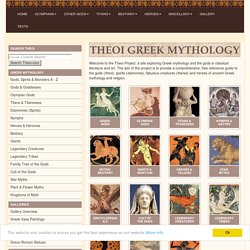 The Theoi Project profiles each deity and creature of Greek Mythology on a separate page, incorporating an encyclopedia summary, quotations from a wide selection of ancient Greek and Roman texts, and illustrations from ancient art. Analysis of the texts and interpretation of the stories of myth is currently beyond the scope of the project. For such detailed analysis, I would suggest consulting some of the good books available on the subject.
Map showing the approximate location of the Boii in Bohemia and in Italy. The contemporary La Tène Culture is indicated in green tones, the preceding Hallstatt Culture in yellow. The Boii (Latin plural, singular Boius; Greek Βόϊοι) were a Gallic tribe of the later Iron Age, attested at various times in Cisalpine Gaul (northern Italy), Pannonia (Hungary and its western neighbours), in and around Bohemia (after whom the region is named in most languages), and Transalpine Gaul. In addition the archaeological evidence indicates that in the 2nd century BC Celts expanded from Bohemia through the Kłodzko Valley into Silesia, now part of Poland.[1] They first appear in history in connection with the Gallic invasion of north Italy, 390 BC, when they made the Etruscan city of Felsina their new capital, Bononia (Bologna).
Boii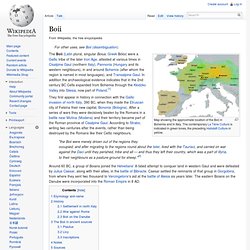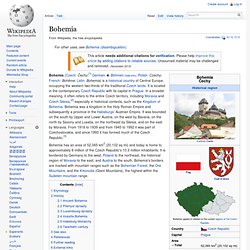 Bohemia
Coordinates: Bohemia (Czech: Čechy;[1] German: Böhmen ; Polish: Czechy; French: Bohême; Latin: Bohemia) is a historical country of Central Europe, occupying the western two-thirds of the traditional Czech lands.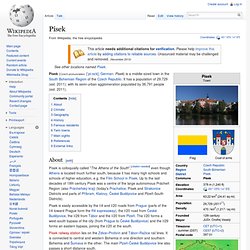 Písek
Old houses in city center Písek (Czech pronunciation: [ˈpiːsɛk]; German: Pisek) is a middle-sized town in the South Bohemian Region of the Czech Republic. It has a population of 29,729 (est. 2011); with its semi-urban agglomeration populated by 36,791 people (est. 2011).