Entreprenariat
Mon blog : Proactive Activity
You read that right, I've compiled all of Seth Godin's free ebooks in one big awesome list. Seth Godin is a fantastic source of constant information and wisdom. His blog is incredibly insightful and he produces books and ebooks left and right.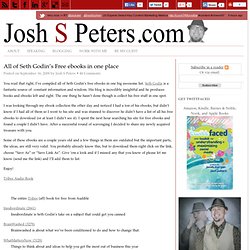 All of Seth Godin's Free ebooks in one place | Social Media, Internet Marketing, and Life connected | Josh S Peters
Free days before we shared some sets of free eBooks related to Viral Marketing .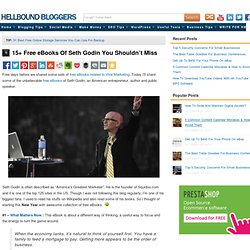 15+ Free eBooks Of Seth Godin You Shouldn't Miss
Modèle de questionnaire de satisfaction – Guide et modèle de questionnaire de satisfaction
Le modèle de questionnaire ci-dessous est donné à titre d'illustration du Livre blanc pour la mise en place d'une enquête de satisfaction que nous vous invitons à consulter pour une explication détaillée sur la mise en oeuvre d'une enquête de satisfaction par Internet.
ModeleEnqueteDeSatisfaction20110407
Enquete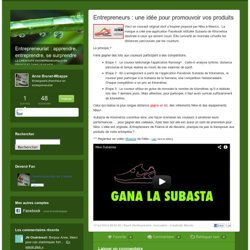 Voici un concept original dont s'inspirer proposé par Nike à Mexico .
Entrepreneurs : une idée pour promouvoir vos produits
Why Some Entrepreneurs Undermine Their Own Success
The 7 Habits of Highly Ineffective Bloggers
Images récentes de @fdebailleul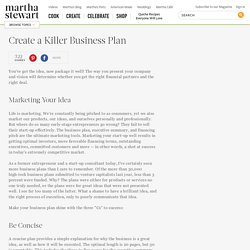 You've got the idea, now package it well! The way you present your company and vision will determine whether you get the right financial partners and the right deal. Marketing Your Idea Life is marketing.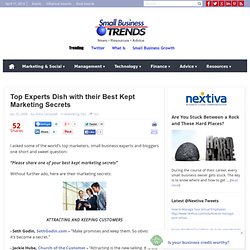 Top Experts Dish with their Best Kept Marketing Secrets
I asked some of the world's top marketers, small business experts and bloggers one short and sweet question: "Please share one of your best kept marketing secrets" Without further ado, here are their marketing secrets: - Seth Godin, SethGodin.com – "Make promises and keep them. So obvious, it's become a secret."
Social media is here and it's changing your business in many ways. We think that's more than just a good thing – it's a massive opportunity. But you can't approach social media as you would old-style corporate communications. It's a new way of thinking about your company and your relationships with your customers.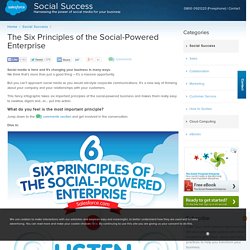 Six Principles of the Social-Powered Enterprise - Salesforce.com UK
Do you want to give your business a boost but you don't want to spend a lot of money? Try out Fiverr.com . It is a very usefull website to promote your business. Essentially, it's a marketplace where you can can sell and buy gigs that are priced at $5. Gigs range from doing video testimonials to sending out Tweets to writing a romantic sonnet. In this article I will sum up 10 examples of how to promote your business for only $5 by showing you some gigs that where posted on Fiverr.com.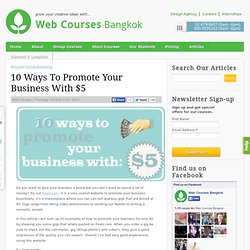 The 10 Secrets Of Successful Leaders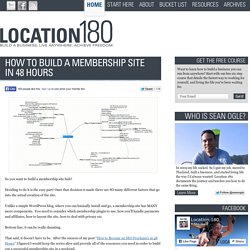 Email Share 278 Email Share So you want to build a membership site huh? Deciding to do it is the easy part! Once that decision is made there are SO many different factors that go into the actual creation of the site. Unlike a simple WordPress blog, where you can basically install and go, a membership site has MANY more components. You need to consider which membership plugin to use, how you'll handle payments and affiliates, how to layout the site, how to deal with privacy etc.
January 13, 2011, 6:00 am by: MD Category: Miscellaneous I started reading the Art of Non-Conformity the other day and the idea of the life list/bucket list got me thinking again. I started thinking about my bucket list for what I want to accomplish before I turn 30 (in 7 years). Then I started to get more specific. I started thinking about what I want to accomplish financially before 30. Then I realized that my mind was all over the place.
Having never taken a business class in college I find that I read and listen to a lot of business books to round out my education.
Few people talk about this great productivity tip… You will reach your goals faster and easier if you're willing to learn from others. Using brilliant, well-crafted resources created specifically for online entrepreneurs improves your online productivity . Below I have a long list of resources, most of which I've used myself. The rest come highly recommended from my mentors and online business friends. Enjoy the list.
Note: This is a post from Adam Baker, founder of Man Vs. Debt. Last week, while I was talking about our new You Vs. Debt class , we touched on the "status quo" of our Upside-Down Nation . We talked about our obsession with the debt-fueled life path and how it's keeping millions trapped.
This YouTube video seeks to help aspiring executives prepare themselves to be strong CEO candidates in the future. Professor Joseph Bower from the Harvard Business School believes anyone hoping to hold a corner office someday should be able to ask serious questions—and answer them objectively—about their own work and the work produced by the company. Becoming a CEO is all about constantly learning and improving oneself—and later, others—to establish a true role within a company, instead of merely being a placeholder. Bower also recommends that CEOs-in-training take an interdisciplinary approach to networking, thus promoting innovation within the company. How can you hire highly skilled workers, persuade them to work for free, and then release your product to the masses for free?
5 minutes pour obtenir un job dans les médias sociaux | Le Blog de Jean-Noël Chaintreuil
La lecture rapide pour les paresseux (1/2) | Proactive Activity