Musts
Documento_de_base_n__3__febrero_2012_ StoryCode: Immersive Storytelling | Home. Transmedia Storytelling Around the World: Karine Halpern. Interview with digital and cultural communications consultant Karine Halpern about Transmedia Storytelling , especially in France, and the question "Why Transmedia?"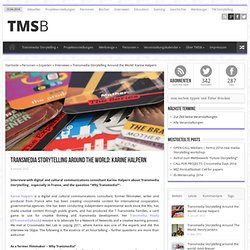 - Karine Halpern is a digital and cultural communications consultant, former filmmaker, writer and producer from France who has been creating crossmedia content for international cooperation governmental agencies. The Storytelling Mandala: Purpose-Inspired Transmedia Storytelling | Gauravonomics. Marketers have always used stories to share information, change opinions and influence decisions.
Now, as people create, consume and share brand stories in new ways, marketers need to go beyond the 30-sec product ad or the 300-word press release, and tell purpose-inspired transmedia stories that inspire, organize and energize people. Six Trends in Storytelling Let's start by recapturing the six important trends that are reshaping how people create, consume and share brand stories:
Center for Future Storytelling | Research. The overall mission of the Center is to explore the convergence between art and technology—particularly as related to creative expression through story forms—in ways that elevate the human experience.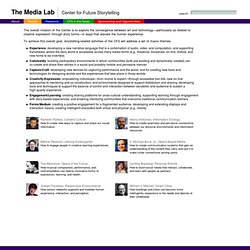 To achieve this overall goal, storytelling-related activities of the CFS will address a set of macro themes: 4 Tips for Creating a Consistent Transmedia Content Strategy. Tips for Connected Documentarians » The Connected Documentary. This is an emerging field.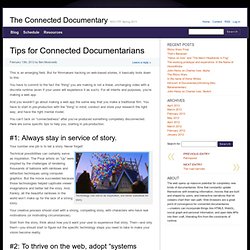 But for filmmakers hacking on web-based stories, it basically boils down to this: You have to commit to the fact the "thing" you are making is not a linear, unchanging video with a discrete runtime (even if your users will experience it as such). Transmedia_storytelling. Transmedia Resources.
Interactive Cinema Homepage. Tim Sheppard's Storytelling Resources for Storytellers. Storytelling and Business. Last updated 5/14/2004 We all have been told stories in our lifetimes since we were quite young.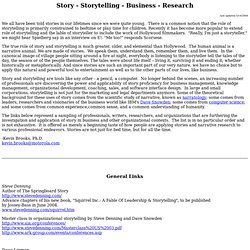 There is a common notion that the role of storytelling is primarily constrained to bedtime or play time for children.
---