STOP_MOTION
Procrastination. เกรียน...โชว์ ไอเดีย เมพๆ... - Sahamongkolfilm International. Super Flu - Euterpeh (official video) PIKA PIKA in KANAZAWA 2008 Trailer. Royal Wedding Festival 17.02.2012. Thought of You. Oren Lavie - "Her Morning Elegance" A Quarter Past Wonderful. The PEN Story. The King of Legoland. PROTEIGON. An 8 bit painted animation on wall (Street view) Lavazza a modo mio. The Seed. TOPO GLASSATO AL CIOCCOLATO by milkyeyes. The Alphabet 2. Broadcast Yourself. EatPES - Home of the Twisted Films of PES.
Marta sui Tubi - Cinestetica YouTube. DEADLINE post-it stop motion. Jan Svankmajer: Dimensions of Dialogue Part 2. COMBO a collaborative animation by Blu and David Ellis (2 times loop) Keaton Henson - Small Hands. The Whiteboard - Stop Motion. Cose che nessuno sa di Alessandro D'Avenia. Stop motion »Designerblog.it. 215 filoni di pane, una media di almeno una decine di fette a filone, per un totale di 2150 fette, ovvero 2150 fotogrammi disegnati dal calore impresso sul pane abbrustolito.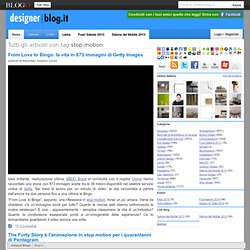 Gli Ok Go sono noti per i loro video stupefacenti e ben studiati, dove spesso e volentieri compaiono loro stessi in performance entusiasmanti, che fanno venire voglia di partecipare in prima persona. Il video di "Last leaf" è stato realizzato in partnership con Samsung NX100 IFN [ diretto dagli OK Go stessi, Nadeem Mazen e Ali Mohammad; prodotto da Shirley Moyers; animato da Geoff McFetridge, Champion Studio. Inoltre per chi come me tenesse alla questione etica, va detto che tutte i filoni di pane utilizzati per la realizzazione del video erano già scaduti, e quindi salvati da uno smaltimento sicuro, come avviene sempre per i cibi rimasti invenduti negli scaffali dei supermercati.
Tempo 'Bike'
---