Info Lookups
Daily: U.S. Employment. Gallup tracks daily the percentage of U.S. adults, aged 18 and older, who are underemployed, unemployed, and employed full-time for an employer, without seasonal adjustment.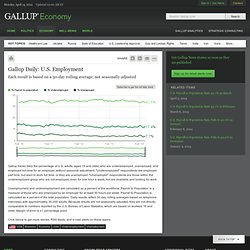 "Underemployed" respondents are employed part time, but want to work full time, or they are unemployed. "Unemployed" respondents are those within the underemployed group who are not employed, even for one hour a week, but are available and looking for work. Unemployment and underemployment are calculated as a percent of the workforce. Payroll to Population is a measure of those who are employed by an employer for at least 30 hours per week. Encyclopedia of Economics.
Google. WikiLeaks. Truth or Fiction. Translate.
---