MÅ LOGGE
Twitter Chats and Hashtag Conversations | Social Media Curation with Keepstream
By – February 1, 2011 Posted in: Curation Firstly, Twitter chats are awesome. A great dialogue is made possible because such a wide variety of people can participate.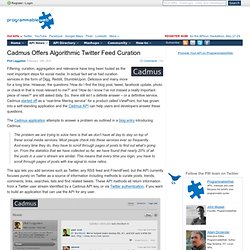 Filtering, curation, aggregation and relevance have long been touted as the next important steps for social media. In actual fact we've had curation services in the form of Digg, Reddit, StumbleUpon, Delicious and many more for a long time. However, the questions "How do I find the blog post, tweet, facebook update, photo or check-in that is most relevant to me?" and "How do I know I've not missed a really important piece of news?"
Cadmus Offers Algorithmic Twitter Feed Curation
Cadmus Offers Algorithmic Twitter Feed Curation
We Me We – Why the Curation vs Aggregation Discussion is Messy
In Aggregation Is Not Curation – There Is A Big Difference , Tom Foremski provides definitions of curation and aggregation: is a person or persons, engaged in the act of choosing and presenting things related to a specific topic and context. An example of curation: the San Francisco De Young museums is exhibiting post-impressionist masterpieces from the Musée d'Orsay's permanent collection.
channel - education
You've heard of Twitter, right? Well, in 2008 I found Twitter and fell in love with the idea of to sharing information in real-time and connect with people across the globe. Twitter became my medium. I consumed an endless stream of news, blogs, and ideas, but what was most interesting to me was the people I followed shared links not only from their own blogs, but also from larger sites like Techcrunch and Mashable. Around the time I hopped on the Twitter-wagon, I started a digital strategy agency to help companies grow their online presence. In order for me to become credible in the market of Search and Social Media I had to share my insights with the digital world.
CurativeApp.com - Coming Soon
Do you want to know how to find the most valuable social media content? Are you looking for great articles and videos to share with your friends and fans? Be sure to watch this edition of Social Media Examiner TV with our host Mari Smith. In this episode, Mari introduces you to the concept of curating content and how it can help your business. And Mari also reviews 8 content curation tools to help you find the best information for your business.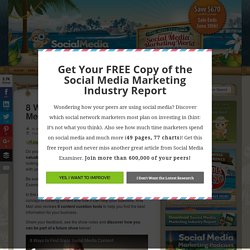 Twitter Trackbacks for The New Intersection of Search and Social Media – By Jay Berkowitz [feedfront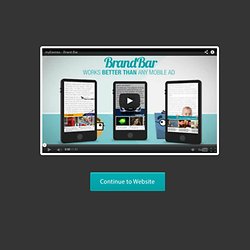 About my6sense My6sense has been a pioneer in native mobile content personalization and discovery since its inception in 2009. Before shifting its focus to the publishing market, the company built a track record developing business-to-consumer products. The my6sense team brings expertise in individual behavior modeling and implicit search capabilities along with a deep understanding of user experience on mobile. This allows my6sense to better target advertising based upon prediction of user intent, which we like to call "digital intuition". The my6sense content discovery bar uses patent-pending technology to help publishers optimize and monetize their mobile e-publishing properties.
#TDGv Eqentia Playlist is now Live! "The Most Versatile Aggregation & Curation Platform" | Life@42 by @RLavigne42
Webcurators Increase Web Signal-to-Noise Ratio | iCurate Blog