Brushes
Oct 15 2008 Hundreds of thousands of incredible Adobe Photoshop brush sets are all over the web. Due to this phenomenally vast amount of Photoshop brushes available, you can now add patches of dirt, rust, floral effect, swirls, mold, oil stains in your artworks and photos to give them an aged, damaged, dreamy or any look you want. Without further ado, we present 1000+ high-Resolution Adobe Photoshop brush sets that will be perfect for any project you may happen to be working on. Important: Licenses of every brush set varies, so be sure to check that information before using them.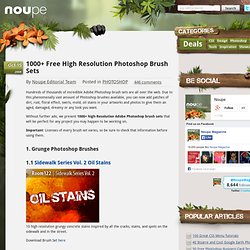 Brushes | deviantART
Downfall And in this dark harvest of seasonMy life has completely lost reason,For which or against to decide.All lost in a savage and endless, bleak tideIn sadness and in kindnessIn light and in darkness.In a boat made of hopeI shall sail to tomorrow,In a winding hurricaneMade of treachery and sorrow.There's a spear, endless, and colossal spear...Piercing, slashing though my head.Starting somewhere in heaven,Ending somewhere in hell.Fighting, burning, crying, crashing.Are the armies within.In my head they are all thrashing.On the heaven's and hell's whim.To be light or to be darkness.A perpetual array.It's not merely my choice,But the choice of the way.It's an option of the voice,It's a thin line of gray.Is it a choice forced by fate,Is it a pre-set time and date?Or a choice to which I myself sway?But here's our story anyway…."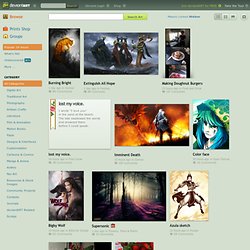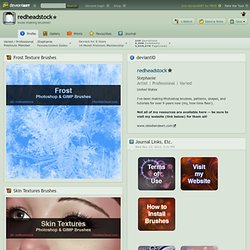 Just updating my journal with all relevant links. Note: Not all of my brushes and other resources are up here on deviantArt -- be sure to visit my website for everything! I've got links for Facebook, Twitter, a newsletter, RSS, and all that snazzy stuff on my website, so that you can get updates via any of those routes. So if you want to see everything, I suggest joining one of those.
redheadstock|deviantART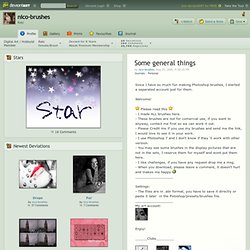 nico-brushes on deviantART
Since I have so much fun making Photoshop brushes, I started a separated account just for them. Welcome! Please read this - I made ALL brushes here.- These brushes are not for comercial use, if you want to anyway, contact me first so we can work it out.- Please Credit me if you use my brushes and send me the link, I would love to see it in your work.- I use Photoshop 7 and I don't know if they´ll work with other version.- You may see some brushes in the display pictures that are not in the sets, I reserve them for myself and wont put them here.- I like challenges, if you have any request drop me a msg.- When you download, please leave a comment, it doesn't hurt and makes me happy
Abstract Brushes 13 by ~Ghost-001- on deviantART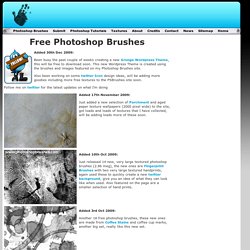 Added 30th Dec 2009: Been busy the past couple of weeks creating a new Grunge Wordpress Theme, this will be free to download soon. This new Wordpress Theme is created using the brushes and images featured on my Photoshop Brushes site. Also been working on some twitter Icon design ideas, will be adding more goodies including more free textures to the PSBrushes site soon. Follow me on twitter for the latest updates on what I'm doing