Ideas
7 Ways to Love Blog Comments Again. Comments on blogs, what are they good for?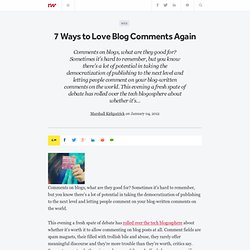 Sometimes it's hard to remember, but you know there's a lot of potential in taking the democratization of publishing to the next level and letting people comment on your blog-written comments on the world. This evening a fresh spate of debate has rolled over the tech blogosphere about whether it's worth it to allow commenting on blog posts at all. Comment fields are spam magnets, their filled with trollish bile and abuse, they rarely offer meaningful discourse and they're more trouble than they're worth, critics say. Supporters contend otherwise, and as one of those, I offer below seven specific ways that new startups can optimize the discourse after a blog post has been published by its author.
New Features in 2.5 - Windows Azure support. The artcile New Features in 2.5 showcases several new features in Joomla 2.5.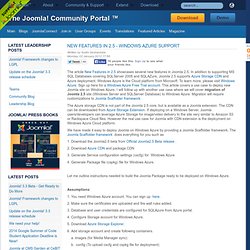 In addition to supporting MS SQL Databases covering SQLServer 2008 and SQLAZure, Joomla 2.5 supports Azure Storage CDN and Azure deployment. Windows Azure is the Cloud platform from Microsoft. To learn more, please visit Windows Azure. Sign up here for a Windows Azure Free Trial account. This article covers a use case to deploy new Joomla site on Windows Azure. Collaborate to graduate. 4Web, Inc., Creating Highly Customized Joomla Websites - Websites. One of the first steps in forming a website development strategy is to think about the most important aspect of your website...the visitor experience!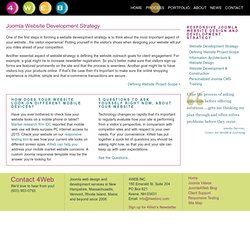 Putting yourself in the visitor's shoes when designing your website will put you miles ahead of your competition. Another essential aspect of website strategy is defining the website outreach goals for client engagement. For example, a goal might be to increase newsletter registration. So you'd better make sure that visitors sign-up forms are featured prominently on the site and that the process is seamless. Software as a service. According to a Gartner Group estimate,[7] SaaS sales in 2010 reached $10 billion, and were projected to increase to $12.1bn in 2011, up 20.7% from 2010.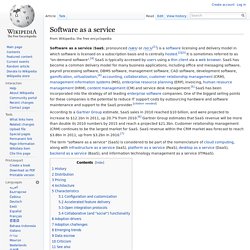 Gartner Group estimates that SaaS revenue will be more than double its 2010 numbers by 2015 and reach a projected $21.3bn. Customer relationship management (CRM) continues to be the largest market for SaaS. SaaS revenue within the CRM market was forecast to reach $3.8bn in 2011, up from $3.2bn in 2010.[8] The term "software as a service" (SaaS) is considered to be part of the nomenclature of cloud computing, along with infrastructure as a service (IaaS), platform as a service (PaaS), desktop as a service (DaaS), backend as a service (BaaS), and information technology management as a service (ITMaaS).[9]
Voice over Internet Protocol. Voice over Internet Protocol (VoIP) is a methodology and group of technologies for the delivery of voice communications and multimedia sessions over Internet Protocol (IP) networks, such as the Internet.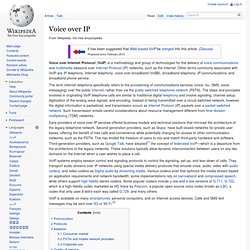 Other terms commonly associated with VoIP are IP telephony, Internet telephony, voice over broadband (VoBB), broadband telephony, IP communications, and broadband phone service. The term Internet telephony specifically refers to the provisioning of communications services (voice, fax, SMS, voice-messaging) over the public Internet, rather than via the public switched telephone network (PSTN).
---