Ideas
7 Ways to Love Blog Comments Again
The artcile New Features in 2.5 showcases several new features in Joomla 2.5. In addition to supporting MS SQL Databases covering SQLServer 2008 and SQLAZure, Joomla 2.5 supports Azure Storage CDN and Azure deployment. Windows Azure is the Cloud platform from Microsoft. To learn more, please visit Windows Azure. Sign up here for a Windows Azure Free Trial account. This article covers a use case to deploy new Joomla site on Windows Azure.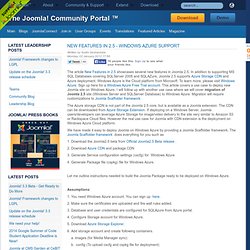 New Features in 2.5 - Windows Azure support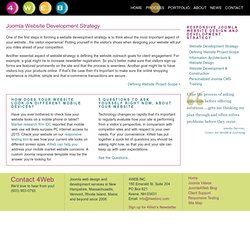 One of the first steps in forming a website development strategy is to think about the most important aspect of your website...the visitor experience! Putting yourself in the visitor's shoes when designing your website will put you miles ahead of your competition. Another essential aspect of website strategy is defining the website outreach goals for client engagement. For example, a goal might be to increase newsletter registration. So you'd better make sure that visitors sign-up forms are featured prominently on the site and that the process is seamless.
4Web, Inc., Creating Highly Customized Joomla Websites - Websites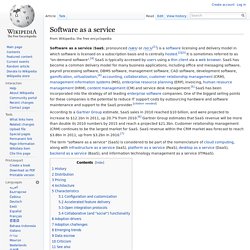 Software as a service (SaaS; pronounced /sæs/ or /sɑːs/[1]), sometimes referred to as "on-demand software" supplied by ISVs or "Application-Service-Providers" (ASPs),[2] is a software delivery model[3] in which software and associated data are centrally hosted on the cloud. SaaS is typically accessed by users using a thin client via a web browser.
Voice over Internet Protocol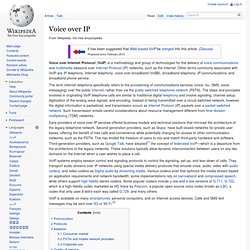 Voice over Internet Protocol (VoIP) is a methodology and group of technologies for the delivery of voice communications and multimedia sessions over Internet Protocol (IP) networks, such as the Internet. Other terms commonly associated with VoIP are IP telephony, Internet telephony, voice over broadband (VoBB), broadband telephony, IP communications, and broadband phone service. The term Internet telephony specifically refers to the provisioning of communications services (voice, fax, SMS, voice-messaging) over the public Internet, rather than via the public switched telephone network (PSTN).
RuangMuslim.com | Situs Jejaring Sosial Muslim Indonesia