UDM relations de presse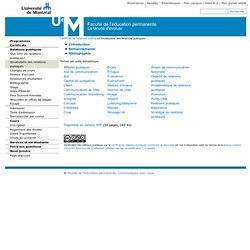 Vocabulaire des relations publiques - Certificat de relations publiques
Répertoires | Facultés | Bibliothèques | Plan campus | Sites A-Z | Mon portail UdeM Faculté de l'éducation permanente La faculté d'évoluer Certificat de relations publiques Vocabulaire des relations publiques Termes par ordre alphabétique
Editor's note: This story first appeared on PR Daily in April. I'm a bit of a word nerd. I jot down every good media-training quote I hear.
20 quotes to inspire PR professionals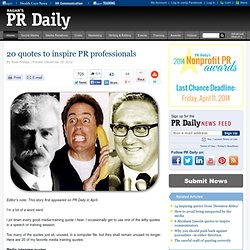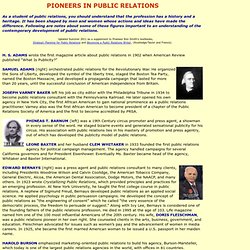 Public Relations, History
As a student of public relations, you should understand that the profession has a history and a heritage. It has been shaped by men and women whose actions and ideas have made the difference. Following are notes about some of these figures important to an understanding of the contemporary development of public relations.
am
Un article de Wikipédia, l'encyclopédie libre. Le sigle QQOQCCP (pour « Qui fait quoi ? Où ? Quand ?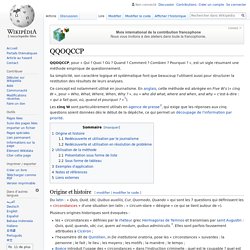 Les acteurs du monde du baseball québécois ont toujours eu un rôle important à jouer dans la traduction du vocabulaire du baseball dans la langue de Molière. C'est aussi un vocabulaire qui évolue, un examen rapide des jounaux des années 30 révélera des termes disparus comme par exemple des hirondelles (faibles ballons au champ intérieur). Des journalistes, mais surtout des commentateurs comme Jacques Doucet et avant lui Jean-Pierre Roy ont contribué fortement au langage québécois du baseball. Avec le départ des Expos, il n'y a plus ce personnage central pour définir le langage. Le baseball et son vocabulaire anglais continue à évoluer, alors il faudra faire en sorte que le langage francophone suive et ne s'anglicise pas graduellement.
Le français et le baseball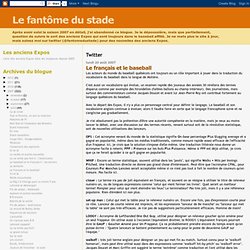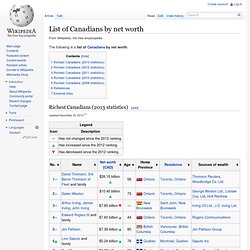 The following is a list of Canadians by net worth: Richest Canadians (2013 statistics)[edit] Updated November 23, 2013.[1] Richest Canadians (2012 statistics)[edit] Updated November 22, 2012.[2] Richest Canadians (2011 statistics)[edit]
List of Canadians by net worth
Infographics as press releases: 3 beautiful examples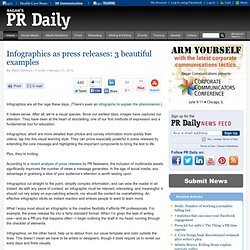 Infographics are all the rage these days. (There's even an infographic to explain the phenomenon.) It makes sense.
SG_guide_planif_activites_comm.pdf (Objet application/pdf)
Lesson 23: Selecting the Right Spokesperson | Braud Communications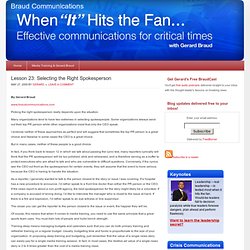 By Gerard Braud www.braudcommunications.com Picking the right spokesperson really depends upon the situation. Many organizations tend to have two extremes in selecting spokespeople. Some organizations always send out their top PR person while other organizations insist that only the CEO speak.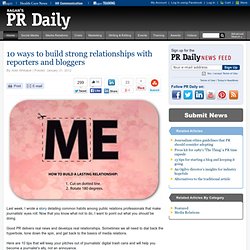 10 ways to build strong relationships with reporters and bloggers
Last week, I wrote a story detailing common habits among public relations professionals that make journalists' eyes roll. Now that you know what not to do, I want to point out what you should be doing. Good PR delivers real news and develops real relationships.
Une nouvelle étude du Canadian Council of Public Relations Firms, intitulée « The Impact of Influence », révèle l'influence relative de divers facteurs sur les décisions d'achat des consommateurs. TORONTO, le 24 janv. 2012 /CNW/ - Plus que l'opinion de telle ou telle célébrité ou que les avis diffusés dans les médias sociaux, c'est d'abord l'opinion des médias traditionnels qui continue de façonner les décisions d'achat des Canadiens. Tel est le constat d'une nouvelle étude rendue publique aujourd'hui par le Canadian Council of Public Relations Firms (CCPRF), qui fait toutefois état de l'existence de différences considérables entre les générations.
Canadian Council of Public Relations Firms | Pour les consommateurs, l'avis des médias compte avant tout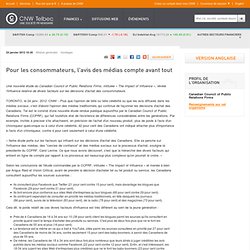 Masterfile A few nights a week my children and I head out around 7:30 p.m. to pick my husband up from work. On the way back, he's inevitably hit with this question from the kids: what did you put in the newspaper today Daddy? See, Doug is a deputy city editor at The Toronto Star and each time that question is lobbed his way he carefully picks through the news he can actually share with the children.
Why don't we see happy stories in the news?
7 things PR pros should know about the shifting media landscape
Vocus became a Twitter trending topic Wednesday afternoon, thanks to its State of the Media report and webinar. (You can download the report here.) The report paints a media landscape that continues to struggle but is using the Web—and especially social media—to evolve. Although fewer newspapers shut down in 2011, they continue to shutter bureaus throughout the world and launch fewer titles, according to the report.
I started my career as a public relations professional 30 years ago. Since then my career has morphed into new areas like sales, marketing, business development, consulting and teaching, but there is a piece of my heart that will always belong to PR. I'm disheartened that people today still ask the same tired question that swirled around the profession when I started three decades ago: "What is PR?"
Can we please stop asking, 'What is PR?'
BEST OF 2011: Perfect PR pitches: NYT tech columnist picks his favorites
This week, PR Daily is counting down the 25 most-popular stories on the site in 2011. This story, which first appeared in December, is No. 19. To see the original version, with all of the reader comments, click here. - editor It's a good time to discuss trends for next year. Here's a look at what I think should be on your radar.
BEST OF 2011: 8 social media trends for 2012
Getting on the Radar: Tried & True Media Relations Best Practices
Over the course of my career, I have belonged to the two sides in the media world that have always had the most conflict – - that of a journalist and a media/public relations professional. Having successfully experienced these two professions, I have learned many lessons in developing a positive and mutually advantageous relationship between what can be humorously described as a relationship similar to "Tom & Jerry." Tom chases Jerry and Jerry hides. Tom usually gets the short end of the stick and Jerry walks away without a scratch. But when these two become friends, it's a perfect match with both helping each other as much as possible.
Galerie de presse > Médiathèque
Les relations de presse ciblées : un art qui paie! | HKDP blog
Comment mettre en place des relations presse
5 leçons à méditer pour réussir des relations publiques 2.0… | Chez Nadia
Faire sa propre liste de presse
ConnectYard Connects Students and Profs Via Text, Social Media
Newsroom layoffs rose by 30 percent in 2011
One trick to help you survive a tough press conference
PR Daily readers' choice: The top 10 PR blunders of 2011
6 skills every PR pro needs
Conférence de Presse // Press conference - Patrice Bernier
19 Biggest Social Media Moments of 2011
33 things the media wish PR people knew
PRCM 4020 Style & Design Fall 2011 - The Loveliest Village
Video Library / City of Carlsbad
mediations: ethics
Les Éditions Transcontinental - Résultats de recherche | Comment parler aux médias
BERNARD MOTULSKY - RENE VEZINA - Comment parler aux médias - Communication - BOOKS - Renaud-Bray
12 outrageous job losses due to mishandling social media
How to media train your executives like a reporter
McDonald's media relations chief explains the best and worst things to do in a crisis
Powerful mathematical model greatly improves predictions for species facing climate change
How to cultivate reporter relationships on Twitter
9 ways to build a media list—for free
Why a press release is like a 60-second commercial
Think you're a public relations wizard? Prove it! Take the PR 3.0 quiz
Journalism skills that translate into the PR world
'My staff over-reacted to this tweet ... I apologize'
Journalists, PR executives explain the traits of talented PR pros
Les relations publiques, une ... - Michel Dumas
Les Relations Publiques Autrement ... - Mathieu Sauvé
Des Campagnes de Communication ... - Marianne Kugler
Les relations publiques dans une ... - Danielle Maisonneuve
L'art des relations presse de Jeanne Bordeau
Médias et milieux francophones