Demographique
Le bilan démographique des 8 millions de Québécois
Mené par la firme Harris-Décima pour le compte de La Presse Canadienne, le sondage indique que 68 pour cent des personnes interrogées ont utilisé les médias sociaux en 2011 comparativement à 57 pour cent deux ans plus tôt. La principale différence entre les deux périodes réside dans le nombre beaucoup plus important de personnes âgées de 50 ans et plus à avoir pris le virage Web 2.0. En 2009, seulement 39 pour cent d'entre elles étaient inscrites à un ou plusieurs médias sociaux contre 57 pour cent en 2011.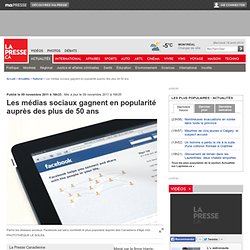 Les médias sociaux gagnent en popularité auprès des plus de 50 ans | National
Of all the social networks, Facebook is the only one that knows no generational limits. From grandparents to teenagers, Facebook — the largest of the social networks — attracts users of all ages. A recent study by Forrester found that of U.S. adults who use social networking sites, 96% of them are on Facebook.
Facebook Is Most Popular Social Network for All Ages; LinkedIn Is Second [STUDY]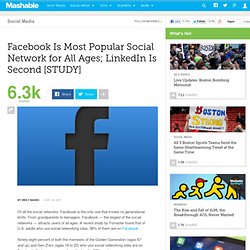 Women Dominate Men at Social Networking
Women use social networks to connect with their friends, family and colleagues more than men, finds a new survey.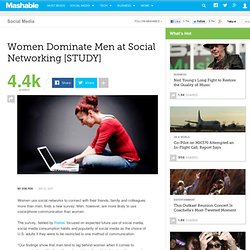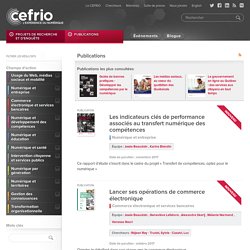 Publications les plus consultées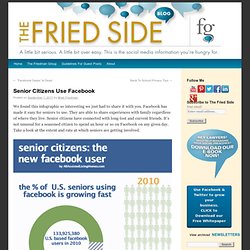 We found this infographic so interesting we just had to share it with you.
Senior Citizens Use Facebook | The Fried Side
Tech Ticker: Facebook, social networking, Google
Posted: 05/02/2012 10:35:42 PM PDT | Updated: about a year ago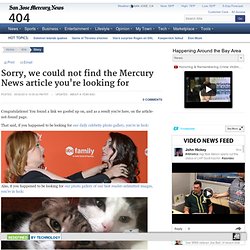 Facebook's Dominance Worldwide...Mapped.
Chicks Rule: Power of Women in Social Media
Until recently, I never really thought about the differences between men and women in social media. I've seen articles here and there about it, but I've always believed that each person stands on his or her own merit in social media, regardless of whether that person is a man or woman.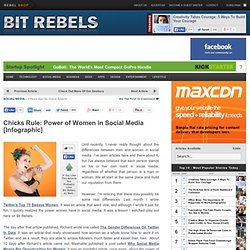 » aînés et TI
Retour à la liste des articles Nous avons récemment mis à jour notre site web et notre blogue.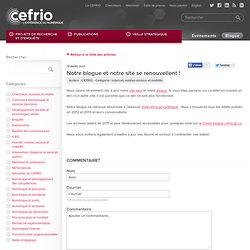 tp://www.pcinpact.com/actu/news/61349-bilan-nombre-internautes-monde-details.htm
5 mythes des médias sociaux – #3 ma clientèle n'est pas sur Facebook
mise à jour le 15 décembre 2010 Voici le troisième billet sur cinq relatant les plus important mythes véhiculés régulièrement et entretenu par les ignorants / non-participants, à propos des médias sociaux. C'est un billet publié par MyCrowd en juillet dernier qui a cristallisé pour moi le besoin de partager avec vous quelque chose qui me dérange, mais que je pardonne à cause de l'ignorance.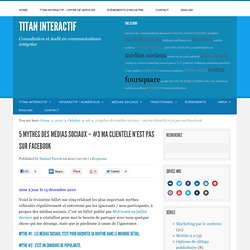 State of the Blogosphere: Blogs Growing Up, Overlapping Mainstream, Embracing Brands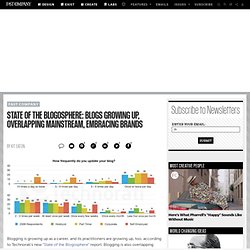 Blogging is growing up as a career, and its practitioners are growing up, too, according to Technorati's new "State of the Blogosphere" report. Blogging is also overlapping mainstream media in consumer's minds and embracing brands. Among the slew of data generated by surveying bloggers from 24 nations, come a bunch of headline figures about bloggers as a species: Two thirds of bloggers are male, and 65% are age 18-44 years old. 81% have been blogging for more than two years, and professionals blog an average of over 10 hours a week. Interestingly, the blogger demographic is "more affluent and educated than the general population," with 79% having college degrees and 43% possessing graduate degrees, too. Measuring how blogging is growing up as a career, the survey data revealed that part-time, corporate, and self-employed bloggers are blogging much more than they did in 2009, while hobbyist bloggers are updating their publications much less frequently.
Facebook Brands Statistics in Canada - Facebakers
Who is online? According to the Pew Internet & American Life Project December 2008 tracking survey, "The biggest increase in Internet use since 2005 can be seen in the 70 to 75-year-old age group."
The Silent Generation, Baby Boomers and the Web, Part 1: Who is online and what are they doing? - Sales and Marketing Strategies - Life Insurance Selling
No, it's not a joke. It was on the second green when I realized that our group represented four generations. What had caught my eye was watching an 89 year old member of the Greatest Generation bending down to fix the ball mark that the Boomer's ball had made.
Silent Generation « Mature Marketing Matters
I've been invited to speak at the Online Customer Experience 2010 conference in London on the 12 July where I will be doing my Mind The Gap presentation on the different generations.
Top tips for Generation Y online customer experiences | TomorrowToday's Blog