Blogueurs et balados
A list of top 50 Canada blogs by Blog Rank
This post originally appeared on the American Express OPEN Forum, where Mashable regularly contributes articles about leveraging social media and technology in small business. Some of the most respected influencers on the Internet today were viewed as illegitimate sources just a few years ago. You know them as "bloggers." In a recent Technorati poll, more than 40% of those surveyed stated that their views closely align with those of bloggers, while their trust in mainstream media continues to wane. For those who seek to market a product or service online, this is the perfect moment — many of the top industry influencers are also the most accessible.
Blogger Outreach: 5 Tips for Connecting With Top Influencers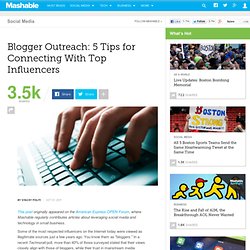 Journalistes qui bloguent
L'intérêt d'un blog d'entreprise
Un blog est long à gérer. Il faut publier, publier et! Publier.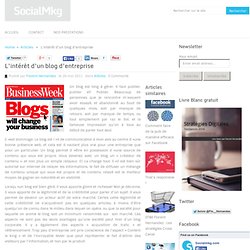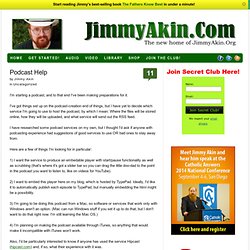 I'm starting a podcast, and to that end I've been making preparations for it. I've got things set up on the podcast-creation end of things, but I have yet to decide which service I'm going to use to host the podcast, by which I mean: Where the files will be stored online, how they will be uploaded, and what service will send out the RSS feed. I have researched some podcast services on my own, but I thought I'd ask if anyone with podcasting experience had suggestions of good services to use OR bad ones to stay away from. Here are a few of things I'm looking for in particular:
JIMMY AKIN.ORG: Podcast Help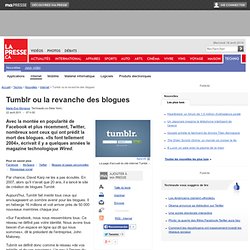 La page d'accueil du site internet Tumblr. - Avec la montée en popularité de Facebook et plus récemment, Twitter, nombreux sont ceux qui ont prédit la mort des blogues.
Tumblr ou la revanche des blogues | Marie-Eve Morasse
Irish Blog Directory: Irish Blogs and Bloggers
Voyeuristic Blogger Portraits Put Faces to URLs | Raw File
Soraya Darabi, Foodspotting.Imran Khan, Letters to Romeo.Drew Grant, Crushable.Ruben Natal-San Miguel, Art Most Fierce.Julia Rappaport, Fork Lift.Sarah Dohrmann, Und You Vill Like It.Mike Hudack, Blip TV.Robin Yang, Candystand.Rex Sorgatz, Fimoculous.Lilit Marcus, The Gloss.Richard Blakeley, Gawker.Daryl Lang, History Eraser Button.Manjari Sharma, Ishaara.Nick McGlynn, Random Night Out.Sheena Sood, Sheena Sood.Jennifer Wright, The Gloss.Caroline McCarthy, The Social.Charlie Fish, Wink.Rachel Hulin, A Photography Blog. "Solitude vivifies; isolation kills."—Abbé Joseph Roux, 19th-century priest and poet.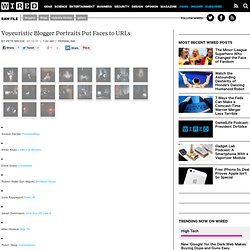 This document covers the following topics: You'll find more information in the following locations: Submission and Feedback Processes Podcasting on iTunes requires several steps: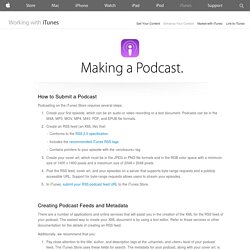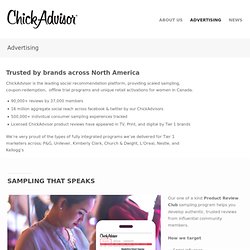 Style Collective.ca » StyleCollective Sites
ChickAdvisor is the leading social recommendation platform, providing scaled sampling, coupon-redemption, offline trial programs and unique retail activations for women in Canada. 90,000+ reviews by 37,000 members16 million aggregate social reach across facebook & twitter by our ChickAdvisors500,000+ individual consumer sampling experiences trackedLicensed ChickAdvisor product reviews have appeared in TV, Print, and digital by Tier 1 brands We're very proud of the types of fully integrated programs we've delivered for Tier 1 marketers across; P&G, Unilever, Kimberly Clark, Church & Dwight, L'Oreal, Nestle, and Kellogg's Our one of a kind Product Review Club sampling program helps you develop authentic, trusted reviews from influential community members. How we target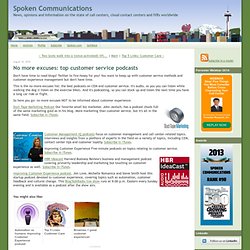 Don't have time to read blogs? Twitter to fire-hosey for you? You want to keep up with customer service methods and customer experience management but don't have time.
No more excuses: top customer service podcasts - Spoken Communications
Michelle Sullivan Communications | Relations publiques
LinkedIn for the small business owner: the world's your oyster I've run some interesting one-on-one coaching sessions for independent consultants and small business owners recently, with a particular focus on Linkedin. Here are some of my top tips for small business owners who have decided to leverage this social network to increase their notoriety and position themselves as specialists in their field. 1. Be strategic when building your profileThink SEO (search engine optimisation) when describing yourself. Rather than « President, Michelle Sullivan Communications », for example, I've put myself in the shoes of LinkedIn users who will use the platform's search tool to find a PR consultant with a social media background.