StoryTelling
Hello there!
Hope all is well...

Here is all what you aim at to tell a story of both Aspiration and Inspiration...

Al the best,
MSHADDD
Mozilla Popcorn. How to Podcast with SoundCloud. How to Create a Course Podcast with Dropbox. This will be the first of a series of posts where I will share step-by-step tips for some customized online course development practices that I've recently attempted and found to be successful in my own online courses.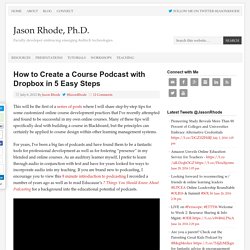 Many of these tips will specifically deal with building a course in Blackboard, but the principles can certainly be applied to course design within other learning management systems. For years, I've been a big fan of podcasts and have found them to be a fantastic tools for professional development as well as for fostering "presence" in my blended and online courses. As an auditory learner myself, I prefer to learn through audio in conjunction with text and have for years looked for ways to incorporate audio into my teaching.
Check Out io9's. Experience Project. VeriteCo/TimelineJS. Yfrog: Share, Converse and Connect. News Circles™ Snapguide. TREND HUNTER. Montage. The Story of Send. An Efficient Server Floor Your message then enters our server floor.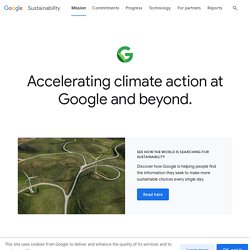 Our servers support many products at a time — that's "the cloud." It means we can do more with less — more searches and more Gmail with fewer servers and less energy. In fact, our data centers are some of the most efficient in the world, using 50% less energy than typical data centers. Issuu: You Publish. Get the name of the dog. Our dog Rex, a Jack Russell terrier, turned 18 years old this week.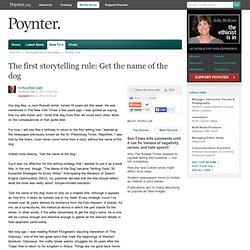 He was mentioned in The New York Times a few years ago; I was quoted as saying that my wife Karen and I loved that dog more than we loved each other. More on the consequences of that quote later. For now, I will use Rex's birthday to return to the first writing tool I learned at the newspaper previously known as the St. Petersburg Times. 5 types of photos that make for strong photo essays, audio slideshows. Distance Educ. § Harvard; Storytelling.
Characteristics of a 'good story' I get this question a lot these days: What makes a story a story?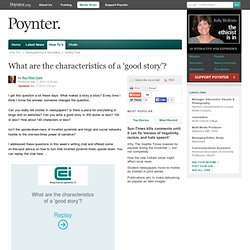 Every time I think I know the answer, someone changes the question. Can you really tell stories in newspapers? A story have staying power. I assume that the Sept. 11 attacks will have an effect on people for decades to come.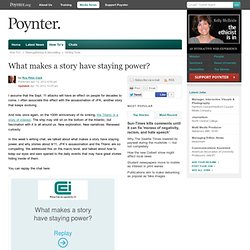 I often associate this effect with the assassination of JFK, another story that keeps evolving. And now, once again, on the 100th anniversary of its sinking, the Titanic is a story of interest. Quizilla. Snooze Your Email for Gmail™ Boomerang for Gmail™ Andmade. AOL Lifestream. Timehop. My Swickis. Visual Thinking Evolution. A mind map is a diagram used to represent words, ideas, tasks, or other items linked to and arranged around a central key word or idea.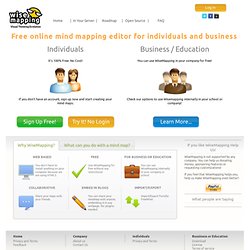 Especially in British English, the terms spidergram and spidergraph are more common,[1] but they can cause confusion with the term spider diagram used in mathematics and logic. Mind maps are used to generate, visualize, structure, and classify ideas, and as an aid to studying and organizing information, solving problems, making decisions, and writing. The elements of a given mind map are arranged intuitively according to the importance of the concepts, and are classified into groupings, branches, or areas, with the goal of representing semantic or other connections between portions of information. Mind maps may also aid recall of existing memories.
By presenting ideas in a radial, graphical, non-linear manner, mind maps encourage a brainstorming approach to planning and organizational tasks. Storybird. Dashter. Memolane. StoryLink. Slashdot. Piczo. Timetoast timelines. Capzles. 30 Boxes. How to use storytelling and NLP to create sales campaigns. Join.me. Leaflet Maps Marker Wordpress Plugin » Pin, organize & show your favorite places through OpenStreetMap/WMTS, Google Maps/Earth (KML), GeoJSON or Augmented-Reality browsers.
Arcilook. Geolocation. Buzz Graphs. Sync.in. Jumpscan. Voki. USTREAM. Livestream. Smilebox. Hello.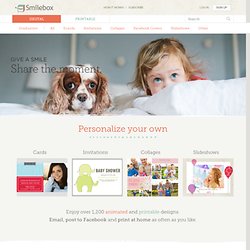 We're Smilebox. Pleased to Meet You. At Smilebox, we know the power of your photos. Mixbook. OoVoo. Skype. Delicious. Audioboo. VoiceThread. NanoGong. What is NanoGong?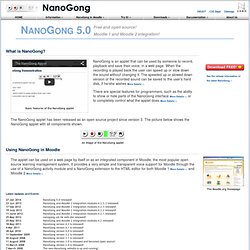 Basic features of the NanoGong applet NanoGong is an applet that can be used by someone to record, playback and save their voice, in a web page. Audacity. Polldaddy. SlideShare. Groups in Diigo. Groups. Flickr. Seesmic. Flip. Jing. Prizes. Imageloop. Issuu. Animoto. One. One2. One1. What Comics Can Teach You About Story Structure. Curatoria. BlogBonanza. Edublogs. Naughty Notiaz. Stormy-Mappers. How Content Is Shared. Glogster. Wiffiti. Target Diagram. Houzz. Animoto. Wattpad.
---