Communautaire
Découvrez Drinkon.Me, les coupons pour boire moins cher!
[La Start-Up française de la Semaine] : Zenwego
Zenwego propose un espace privé collaboratif simplifiant l'organisation de vos vacances.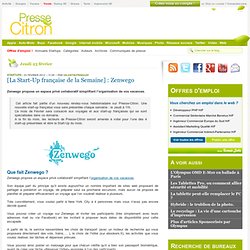 Paris-ci la sortie du metro RATP
PUNG
Site Web Tracking GPS
www.applicationgps.com
Follow Me | Here, there anywhere with friends
GPSfriend | | GPSfriend
FastSquare support site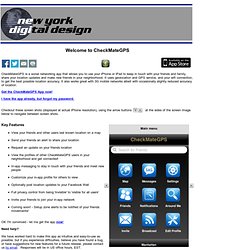 CheckMateGPS | Features
CheckMateGPS is a social networking app that allows you to use your iPhone or iPad to keep in touch with your friends and family, share your location updates and make new friends in your neighborhood.
Loquest - Beta
Latitude - Centre d'aide Google Mobile
MobExplore - Créez des jeux sur mobile
Saloon - iPhone App
Où Trouver ? rend incroyablement facile la localisation du plus proche steakhouse, de la plus proche agence bancaire, club de billard ou tout autre endroit que vous cherchiez à un jet de pierre de votre position ! Enfin, vous pourrez trouver des entreprises locales et les itinéraires pour s'y rendre sans taper quoi que ce soit grâce à une interface soignée et intuitive.
Où Trouver ? – Découvrez votre prochaine destination | FutureTap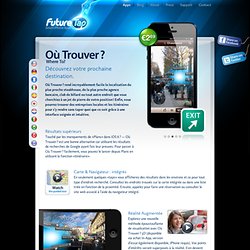 | la location longue duree ?
App iPhone ALD ecodrive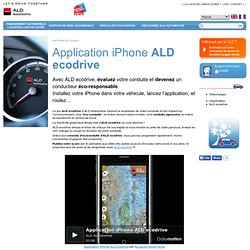 INRIX Traffic!
:: Beagle ::
Localscope is a window to your world that lets you explore your surroundings like never before.
Localscope - Location browser for your iPhone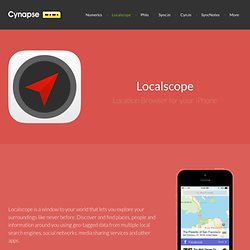 MobileNavigator | NAVIGON - a Garmin company.
ShareMySpot - Echange de places de Stationnement/Parking sur Smartphones - Accueil
GPSnote
With GPSnote you can easily add, edit and delete notes on the map. You can create a note at the current location or by searching for a location by clicking the magnifier icon, a green pin will be shown that you can click revealing a plus icon that opens the keyboard for typing a note.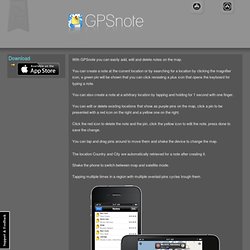 Speed camera detector for iPhone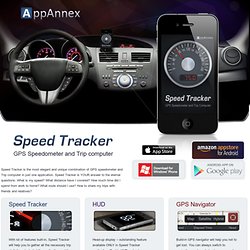 Speed Tracker is the most elegant and unique combination of GPS speedometer and Trip computer in just one application. Speed Tracker is YOUR answer to the eternal questions: What is my speed?
Mobile Application and Game Development Company » Speed Tracker. GPS Speedometer and Trip computer
You must first create an account on this website (it's free !)
Mobilio GeoTag, Application iPhone, iPod, iPad
Wikango
Saabre - La passion est la plus belle des énergies
TAXIS G7 a créé tout spécialement pour vos besoins des applications de commande de taxi par smartphone. Soyez assuré d'avoir un taxi 24h/24 et 7j/7. Vous êtes prioritaire lorsque vous commandez votre taxi par Internet ou depuis votre smartphone.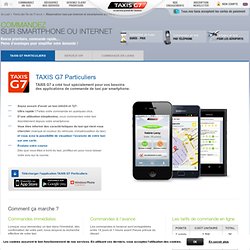 TAXIS G7 - Réservation taxi par internet et phone 24h/24 et 7/7
Coyote - Site Officiel
A bon entendeur - Android
Mobbyway, réseau communautaire mobile , géolocalisation en temps réel