Social innovation
Dan Pallotta
Blog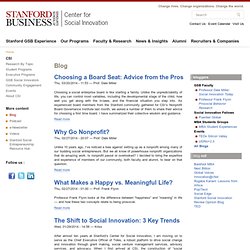 In Bhutan, the mountains rise so high that monastery lights on remote peaks blend in with the stars above at night. On high altitude passes, misty rains are indistinguishable from clouds drifting past. Boundaries in Bhutan melt into one another, and Mountain Hazelnuts as a company is no exception. MH does not fit comfortably within the confines of social enterprise, government project, or multinational company. Similarly, the people at Mountain Hazelnuts – outliers who don't fit the mold – are its greatest asset. Bhutan is not an easy place to reach, and those who seek it out tend to hear the beat of a different drum.
Dan just spoke atTED 2013 Watch the talk. TED fans rave: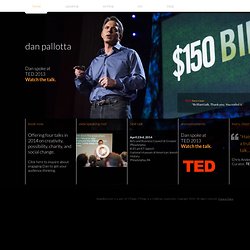 Dan Pallotta
Pallotta Teamworks
Fifth anniversary July 28, 2012, 4:02 am Filed under: Africa, Asia, Background, Blog, Cambodia, Guatemala, India, Kenya, Latin America, Malawi, Nicaragua, Nigeria, Philippines, Rhode Island, Rwanda, Thailand, Uganda Five years ago this week we piloted the Barefoot MBA with villagers near Lamplaimat, Thailand. The world has seen plenty of progress since then: Five Nobel Peace Prize winners.
Barefoot MBA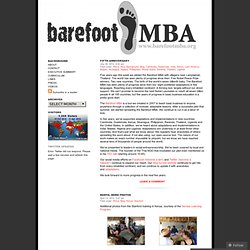 Blog | NextBillion.net | Development through Enterprise
By Anne Li on 03/09/2011 @ 10:30 AM Tags: Federal Policy, Innovation We noticed a highly innovative development called social impact bonds in the U.K. last year, and we weren't the only ones.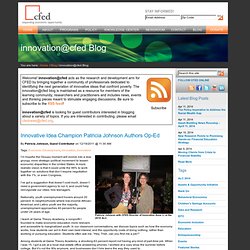 innovation@cfed Blog
blog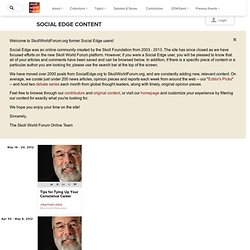 Welcome to SkollWorldForum.org former Social Edge users! Social Edge was an online community created by the Skoll Foundation from 2003 - 2013. The site has since closed as we have focused efforts on the new Skoll World Forum platform. However, if you were a Social Edge user, you will be pleased to know that all of your articles and comments have been saved and can be browsed below. In addition, if there is a specific piece of content or a particular author you are looking for, please use the search bar at the top of the screen. We have moved over 2000 posts from SocialEdge.org to SkollWorldForum.org, and are constantly adding new, relevant content.
Social Innovation Opinion Blog
Jean-Baptiste Michel has sold a small sculpture to the Whitney Museum of American Art. A major museum acquiring a piece—that's a big moment for any artist. But this sculpture is the very first piece of art Michel ever created. Michel is the data researcher who...