Light and Magick
Greetings in Light… Thank you for your response and interest.
Esoteric Order of the Golden Dawn ® - Our Order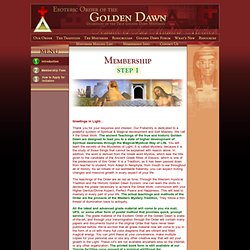 Guardians of the True Golden Dawn Tradition
The Open Source Order of the Golden Dawn
Hermetic Sanctuary of Maat - Golden Dawn System of Ritual Magic
Self Initiation and Golden Dawn Magic
Temple of Thelema • Index page
Transmutation, Fire, Alchemy, The Sun
Servants of the Light School of Occult Science, a fully contacte
Kheper - metamorphosis and evolution
Welcome to my Eidolons! - Eidolons of Ash
Swimming the Sacred River
Physicists Prove Teleportation of Energy Is Possible
Religion And The Esoteric...