Light and Magick
Greetings in Light… Thank you for your response and interest. Our Fraternity is dedicated to a powerful system of Spiritual & Magical development and Self Mastery. We call it the Great Work. The ancient Teachings of the true and historic Golden Dawn are designed to lead you to a state of higher development of Spiritual awareness through the Magical/Mystical Way of Life. You will learn the secrets of the Mysteries of Light.
Esoteric Order of the Golden Dawn ® - Our Order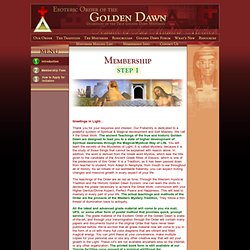 Guardians of the True Golden Dawn Tradition
The Open Source Order of the Golden Dawn
Hermetic Sanctuary of Maat - Golden Dawn System of Ritual Magic
Self Initiation and Golden Dawn Magic
Temple of Thelema • Index page
Transmutation, Fire, Alchemy, The Sun
Servants of the Light School of Occult Science, a fully contacte
Swimming the Sacred River
Physicists Prove Teleportation of Energy Is Possible
Religion And The Esoteric...