Light and Magick
Esoteric Order of the Golden Dawn ® - Our Order. Greetings in Light… Thank you for your response and interest.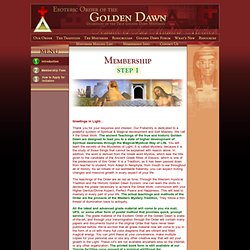 Our Fraternity is dedicated to a powerful system of Spiritual & Magical development and Self Mastery. We call it the Great Work. The ancient Teachings of the true and historic Golden Dawn are designed to lead you to a state of higher development of Spiritual awareness through the Magical/Mystical Way of Life. You will learn the secrets of the Mysteries of Light. Guardians of the True Golden Dawn Tradition. The Open Source Order of the Golden Dawn. Hermetic Sanctuary of Maat - Golden Dawn System of Ritual Magic. Self Initiation and Golden Dawn Magic.
Temple of Thelema • Index page. Transmutation, Fire, Alchemy, The Sun. Servants of the Light School of Occult Science, a fully contacte. Resources. Occult references.
Home Page. Swimming the Sacred River. Physicists Prove Teleportation of Energy Is Possible. Religion And The Esoteric...
---