IPad in Education
Home. Quick List Of iPad Resources For The Classroom. One question that comes into my inbox or on Twitter a lot lately is one dealing with iPads.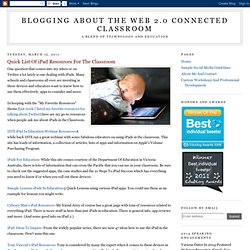 Many schools and classrooms all over are investing in these devices and educators want to know how to use them effectively, apps to consider and more. In keeping with the "My Favorite Resources" theme (last week I listed my favorite resources for talking about Twitter) here are my go-to resources when people ask me about iPads in the Classroom.
iPads in Schools. Internet Catalogue. iPad. Teaching with Ipads. Sample Lessons - iPad in Education. The following lesson ideas utilize several of the Lite or free apps available for the iPad.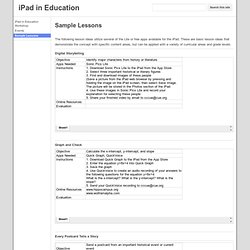 These are basic lesson ideas that demonstrate the concept with specific content areas, but can be applied with a variety of curricular areas and grade levels. Digital Storytelling. Digital content in schools. Elementary School Technology. ISTE iPad in Education Webinar.
---