Когнито
MIT researchers have shown, for the first time ever, that memories are stored in specific brain cells.
Simple Mapper We developed Simple Mapper to power this web site on the brain. Now, you can use it to organize what comes out of yours! With Simple Mapper create and save concept maps, network diagrams, or flowcharts for personal use or to share with others.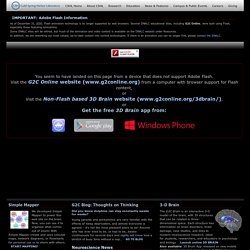 Японцы испытали глушитель для болтунов
Достаточно направить новое устройство на излишне болтливую жертву и нажать кнопку, как человек начинает путаться в словах, запинаться и вскоре вовсе прекращает говорить.
Видеолекции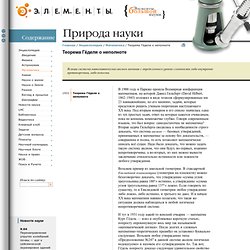 Теорема Гёделя о неполноте
В 1900 году в Париже прошла Всемирная конференция математиков, на которой Давид Гильберт (David Hilbert, 1862–1943) изложил в виде тезисов сформулированные им 23 наиважнейшие, по его мнению, задачи, которые предстояло решить ученым-теоретикам наступающего ХХ века. Под вторым номером в его списке значилась одна из тех простых задач, ответ на которые кажется очевидным, пока не копнешь немножечко глубже. Говоря современным языком, это был вопрос: самодостаточна ли математика?