Teaching Tools
AP: Resources
The Sentence as a Miniature Narrative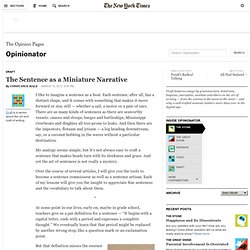 Draft is a series about the art and craft of writing. I like to imagine a sentence as a boat. Each sentence, after all, has a distinct shape, and it comes with something that makes it move forward or stay still — whether a sail, a motor or a pair of oars.
Free Puzzlemaker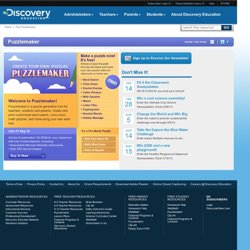 Puzzlemaker is a puzzle generation tool for teachers, students and parents. Create and print customized word search, criss-cross, math puzzles, and more-using your own word lists. Get the Puzzlemaker CD-ROM for your classroom with lots of extra features, including: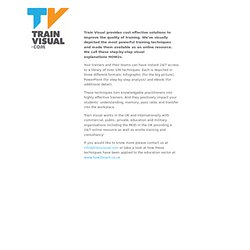 Model Learning: Graphic Organisers
Train Visual provides cost effective solutions to improve the quality of training. We've visually depicted the most powerful training techniques and made them available as an online resource. We call these step-by-step visual explanations HOW2s. Your trainers and their teams can have instant 24/7 access to a library of over 100 techniques. Each is depicted in three different formats: Infographic (for the big picture), PowerPoint (for step-by-step analysis) and eBook (for additional detail). These techniques turn knowledgable practitioners into highly effective trainers.
From 2013, the AusVELS website will provide the curriculum for Victorian government and Catholic schools. AusVELS - http://ausvels.vcaa.vic.edu.au/ For previous Victorian Curricula, including the Victorian Essential Learning Standards (VELS), please click here. Information about the development of the national curriculum in Victoria is available from the VCAA website and from the Australian Curriculum, Assessment and Reporting Authority (ACARA) website.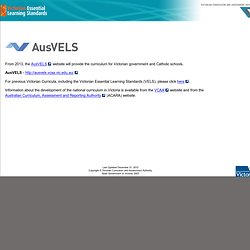 As of July 1, 2013 ThinkQuest has been discontinued. We would like to thank everyone for being a part of the ThinkQuest global community: Students - For your limitless creativity and innovation, which inspires us all. Teachers - For your passion in guiding students on their quest. Partners - For your unwavering support and evangelism.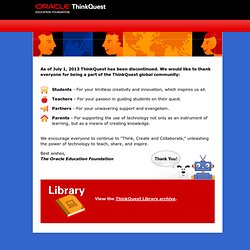 Building on the excellent foundation of standards states have laid, the Common Core State Standards are the first step in providing our young people with a high-quality education. It should be clear to every student, parent, and teacher what the standards of success are in every school. Teachers, parents and community leaders have all weighed in to help create the Common Core State Standards. The standards clearly communicate what is expected of students at each grade level. This will allow our teachers to be better equipped to know exactly what they need to help students learn and establish individualized benchmarks for them. The Common Core State Standards focus on core conceptual understandings and procedures starting in the early grades, thus enabling teachers to take the time needed to teach core concepts and procedures well—and to give students the opportunity to master them.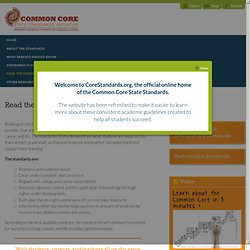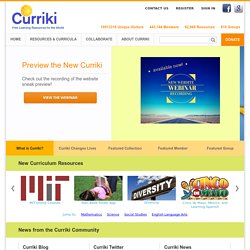 Donate There are a lots of ways to get involved with Curriki from contributing resources to sponsoring content. Curriki's non-profit Tax ID # is 203478467. You can also help us with tax deductible donations: Volunteer If you are looking for meaningful volunteer opportunities, we would love to hear from you. We need educators to help curate content, organize educational collections and rate our resources. Please click the button below and fill out the contact form and we will follow up with you right away. Partner with Curriki Curriki's Partners have generously supported our efforts with funding, educational content, and/or technology.
Follow Education World Sign up for our FREE Newsletters Search Prof. Development Technology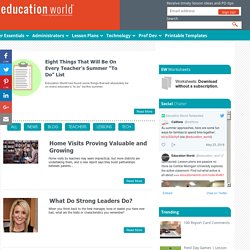 Balancing Fun and Learning in Educational Games - Digital Education
One of the most frequent challenges at the forefront of most stories I write about educational games is how to balance fun and engagement with instructional content and learning, or in other words, how to avoid the criticism that many edugames are "chocolate-covered broccoli"—something students quickly sniff out and reject. Here at the Serious Play Conference, Talib Hussain, a senior scientist from Raytheon BBN Technologies, discussed just how to do this. "We want the game, as much as possible, to be time spent learning," he said in his session Tuesday morning.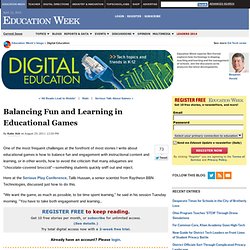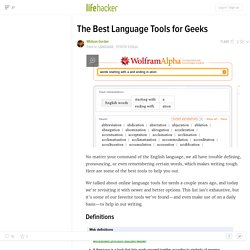 One of my favourite language tools is dict, a dictionary client. On Linux, you can install it and dictd from your distribution's software repositories. (Other platforms, try here) It can query either local or internet dict servers, so you can use it even without an active internet connection if you install the server yourself. Plus, if you run your own server, you can choose what dictionaries (including translation and jargon dictionaries, census info, etc.*) to install and keep locally.
Grammar Slammer--English Grammar Resource
Welcome to Grammar Slammer, the help file that goes beyond a grammar checker. Use it as you would any help file. For more on how to use Grammar Slammer Deluxe and Grammar Slammer, click the "How To" on the contents below.
Type is Art : An Interactive Exploration of the Typographic Form
We hear a lot about the 21st century learner – but what about the 21st century teacher? Andrew Churches investigates what makes them succeed. What are the characteristics we would expect to see in a successful 21st century educator? Well, we know they are student-centric, holistic, and they're teaching about how to learn as much as teaching about the subject area.