Aprendizaje
Free Trials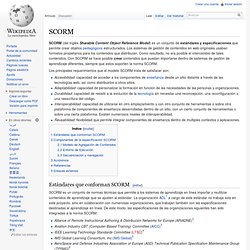 SCORM (del inglés Sharable Content Object Reference Model) es un conjunto de estándares y especificaciones que permite crear objetos pedagógicos estructurados. Los sistemas de gestión de contenidos en web originales usaban formatos propietarios para los contenidos que distribuían. Como resultado, no era posible el intercambio de tales contenidos. Con SCORM se hace posible crear contenidos que puedan importarse dentro de sistemas de gestión de aprendizaje diferentes, siempre que estos soporten la norma SCORM. Los principales requerimientos que el modelo SCORM trata de satisfacer son:
SCORM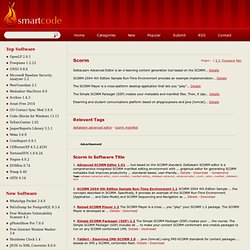 Scorm - Downloads Free Scorm - Download Scorm Software
DeltaLearn Advanced Editor is an e-learning content generation tool based on the SCORM... Details SCORM 2004 4th Edition Sample Run-Time Environment provides an example implementation...
Math4Mobile - The mLearning Way
News - 12/06/2013 Dr. Stan Bogdanov has published Hacking Hot Potatoes: The Cookbook, available in paperback, PDF and ePub format.