RELOAD Project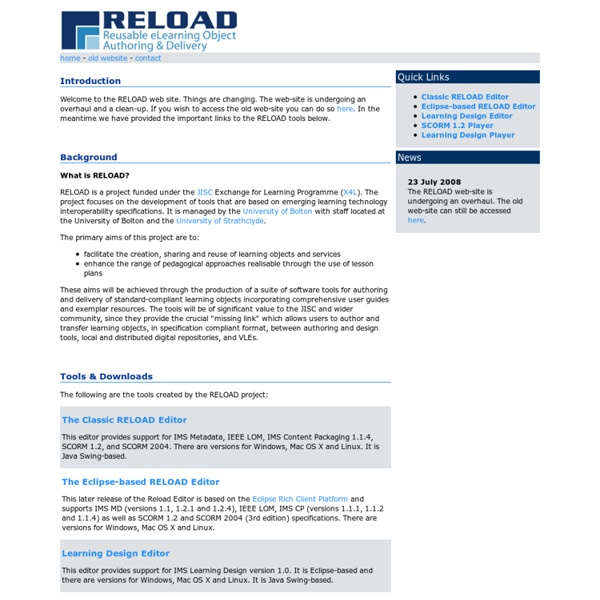 Free e-Learning Authoring Tools • Aplicaciones educativas de la Web 2.0 • SCORM • Curriculum Design and Delivery • scorm
ReCourse Learning Design Editor ReCourse is a tool to create IMS Learning Design compliant Units of Learning. It is free, open source, cross-platform and extensible. It was developed as part of the European-funded TENCompetence project. IMS Learning Design is extensive and complex, and there are very few effective and easy to use tools available which teachers can use to produce Units of Learning which are compliant with the specification. TENCompetence has developed ReCourse to provide learning designers with a solution.
Tools JeLSIM Builder The JeLSIM Builder toolkit is a FREE toolkit for producing educational simulations. The tools are written in Java and allow the user to create Java applets which can be delivered through a standard web browser. Creating simulations requires experience of the Java programming language to create a numerical model of the system/concept being simulated. Aloha Features In collaboration with the folks at Reload , the ALOHA team has released a preview version of ALOHA II . ALOHA II incorporates many of the features from ALOHA, but also includes publication to ECL-compliant repositories, customizable forms, controlled vocabularies, and IMS content packaging. Responding to customer demand, the ALOHA team has made available a lite version of the full ALOHA metadata markup, indexing and publishing tool. This version presents the user with a simple form-based interface using the most popular fields from the IMS metadata schema.
Main Page - Design for Learning From Design for Learning Funding for this programme ended in May 2008. JISC are continuing to fund work in the wider context of institutional approaches to curriculum design and delivery. More information is available from the JISC website. Pro-Version bestellen WBTExpress 7.0 Pro - Informationen Testen Sie unser Autorentool! Trial kostenlos verfügbar! Das Autorentool WBTExpress ermöglicht die einfache und unkomplizierte Erstellung von eLearning-Kursen und –Prüfungen.
Hot Potatoes Home Page News - 12/06/2013 Dr. Stan Bogdanov has published Hacking Hot Potatoes: The Cookbook, available in paperback, PDF and ePub format. Check it out!A change to the user agent string in Firefox 17 results in Hot Potatoes and Quandary exercises showing an error message when loading in the browser. Version 6.3.0.5 (Windows) of Hot Potatoes, 6.1.0.6 (Java for Mac) of Hot Potatoes and version 2.4.2.1 of Quandary (Windows) have updated source files which fix the problem, but you will need to rebuild your exercise HTML pages to solve it.
CamStudio - Free Screen Recording Software Free Streaming Video Software What is it? CamStudio is able to record all screen and audio activity on your computer and create industry-standard AVI video files and using its built-in SWF Producer can turn those AVIs into lean, mean, bandwidth-friendly Streaming Flash videos (SWFs) Here are just a few ways you can use this software: Le projet Eur?ka: page d'accueil Le projet Eurêka est une initiative de la Vitrine Technologie-Éducation dans le cadre d'un projet de coopération Québec-Wallonie-Bruxelles. Il offre un catalogue collectif de ressources d'enseignement et d'apprentissage rassemblées par divers organismes oeuvrant dans la production de ressources éducatives TIC. La coquille informatique d'Eurêka est un produit à code ouvert. Les données peuvent être fédérées avec d'autres dépôts établis selon un profil d'application "Learning Objet Metadata" (LOM). Eurêka anglophone The Eureka project is an initiative of Vitrine Technologie-Éducation within the framework of a Quebec-Wallonia-Brussels joint venture.
Aplicações educativas da web 2.0 • libres • Aprendizaje • SCORM • johncarvajal • moodle • Metadata • elearning