English Lesson Plans/Activities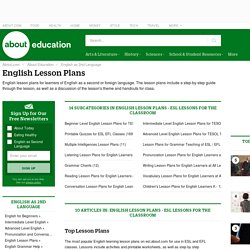 English lesson plans for beginner, intermediate and advanced levels including reading, writing, listening, grammar, speaking, pronunciation for adult and childrens' classes as well as Business English. English Language Levels - Rubric to ESL LevelsThis rubric provides English language level guidelines and expectations for learners at four different levels. Speaking and pronunciation, reading, writing and listening skills and capabilities are described in detail for each of these levels to help teachers and learners establish the correct English learning level either before a course... ESL PrintablesESL printables materials for the English learning classroom which can be printed and used in ESL EFL lessons. ESL Debate LessonsThis lesson plan is based on the idea that having students support opinions that are not necessarily their own during debates can help improve students fluency.
Teaching Ideas | ELTNEWS.com for Teaching English in Japan
Teaching Ideas Johannes C. Razenberg
Tefl | Education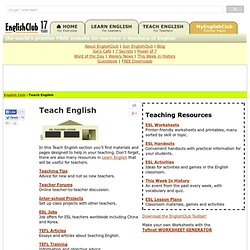 In this Teach English section you'll find materials and pages designed to help in your teaching. Don't forget, there are also many resources in Learn English that will be useful for teachers. Teaching Tips Advice for new and not so new teachers. Teacher Forums Online teacher-to-teacher discussion.