Movo
Learning Electronics :: Worksheets - Test your knowledge!
Learning Electronics :: Worksheets - Test your knowledge!
WritingSystemsOfTheWorld.png (PNG Image, 2276 × 1405 pixels)
Blog Gamification | wonnova
Miriada X
Advocats
El Blog de EnAlquiler.com: Pistas y consejos para inquilinos y caseros
Pedro Hernández del Olmo, Abogado
Thor's Cave
Os presento una selección de la obra del Sr. Absurdo y Ay que me lol , creadores de "Gandhi y Lucas", "Andrés Siniestra" y "Pienso, luego ya tu sabes". ¿Conocéis a otros artistas del collage ingenioso?
Pienso, luego ya tu sabes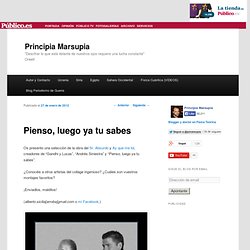 Bloger De Niro: Fary y Alexander
Banca Ética – Información y difusión
Sintetia, observatorio global de economía
Dns - Compra online precios precio comprar dns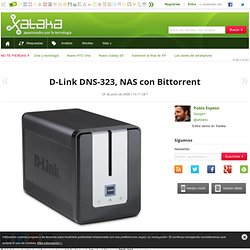 D-Link DNS-323, NAS con Bittorrent
D-Link ha actualizado el firmware de su NAS ( Network Attached Storage ) DNS-323 , una caja que permite instalarle hasta un par de discos duros de 3.5 pulgadas para, a través del puerto ethernet , poder comunicarse con el ordenador. La novedad es que el D-Link DNS-323 va un paso más allá, ofreciendo no sólo un disco duro externo convencional, sino también un cliente BitTorrent (la novedad de este firmware) que funciona independientemente del ordenador. Esto es, que podremos tener el sobremesa apagado pero mantener los torrents descargando a través del NAS.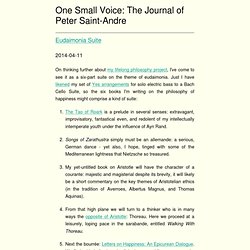 unnamed pearl
Epicurean Analysis While working on the second draft of my dialogue Letters on Epicurus , I've been thinking about the Epicurean analysis of where human beings go astray in the pursuit of happiness. According to Epicurus, the basic form of a "vice" or "sin" is a pattern of thought and behavior that is driven by a specific fear and that leads to an unnatural or unnecessary desire, thus taking you off the path to happiness. Consider the following examples: The fear of oblivion leads to the desire for immortality. Yet the ideal (what is natural and necessary) is not to live forever, but to face death without fear and to enjoy the span of your life on earth.
Coordinadora de Ràdios Lliures de Catalunya | ESCOLTA RÀDIOS LLIURES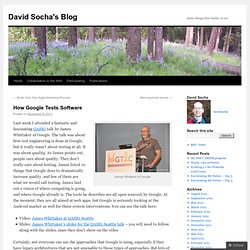 How Google Tests Software James Whittaker of Google Last week I attended a fantastic and fascinating QASIG talk by James Whittaker of Google. The talk was about how test engineering is done at Google, but it really wasn't about testing at all. It was about quality . As James points out, people care about quality.
How Google Tests Software | David Socha's Blog
Major Kong Rides the Bomb
How-To Guides/Manuals: Featured Documents | Scribd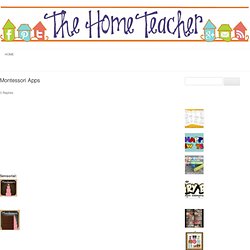 Montessori Apps
I wanted to compose a list of some Apple apps (iPad/iPod/iPhone) that are based on the Montessori approach. The true Montessorians will argue that technology shouldn't replace the kids using actual manipulatives... and I have to agree. There is something about holding the shapes in your hands, touching the different sides of a geometric figure, or feeling the scratchy sandpaper when tracing letters. With that said, I am in love with most of these Montessori apps.
SiliconANGLE | Computer Science meets Social Science
Home | Ciutadania 4.0
SLOW FOOD BCN
Dia duit, and welcome to the Center for Celtic Studies website! The Center for Celtic Studies provides interdisciplinary, international educational opportunities for UWM students. Our program includes on-campus instruction by UWM and visiting international faculty, as well as study-abroad options in Ireland, Great Britain, and Europe. We provide a wide range of course and research topics relating to cultures-both historical and modern--that share Celtic influence: the early Continental Celts and the Breton, Cornish, Galician, Irish, Manx, Scots, and Welsh peoples. Students can concentrate their studies on the Celtic languages, both spoken and written, or they may choose to investigate the broader themes of the Celtic world, such as art, archaeology, literature, history, folklore, music and myth. The Celtic world offers a dynamic forum for the combined study of language, culture, politics, education, and the arts.
UW-Milwaukee: Center for Celtic Studies -- Home Page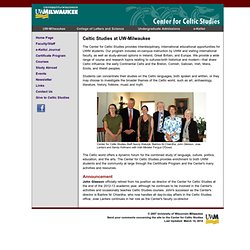 PACs UOC | Página web enfocada a la resolución de PACs PECs de la UOC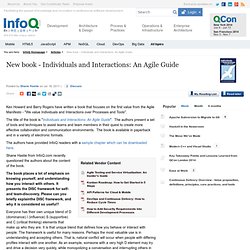 New book - Individuals and Interactions: An Agile Guide
Posted by Shane Hastie on Jul 18, 2011 Sections Process & Practices , Architecture & Design
If there's one thing everyone dreads, it's rebooting their computer. It may only take a minute or two, but it can seem like forever. Here are our top 10 tweaks that'll make your computer boot a little faster. Photo by Alex Schwenke . This is a pretty controversial topic, as there are a lot of startup-tweaking myths out there. So, we took to the streets (of the internet) and searched for as many easy, well-supported tips as we could find.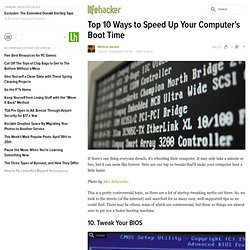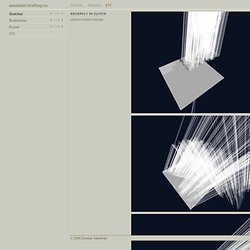 etc.
Director Office of Unspecified Services | Brooklyn, N.Y. Interactive Designer
Hace unos días os comentábamos que ya se podía solicitar el borrador del IRPF del ejercicio 2008 . A nivel fiscal, una de las principales novedades que trae esta declaración es la posibilidad de deducirse las cantidades pagadas en concepto de alquiler de vivienda habitual . Para que esta deducción sea efectiva hay que proceder a realizar la declaración de la renta , o incluir en el propio borrador los datos de dicha deducción en la casilla 706.
¿Vives de alquiler? Te interesa hacer la declaración de la renta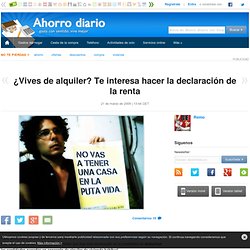 D-Build :: Home
Citilab Projectes
invoiceto.me · Make a free invoice PDF online
Interactive graphics for data analysis
I got a copy of Martin Theus and Simon Urbanek's Interactive Graphics for Data Analysis a couple of years ago, whence it's been sat on my bookshelf. Since I've recently become a self-proclaimed expert on interactive graphics I thought it was about time I read the thing. Which is exactly what I did last weekend at the Leeds Festival (in between rocking out). It's a book of two halves, and despite the title the interactivity isn't really the focus. The book is actually a guide on how to do exploratory data analysis.