Pendiente de Leer
taxi_onomy
– the practice of classification from the purview of the taxi. – the notion of archiving as a social act and the investigation of cartography as a tool for the appropriation of space. taxi_onomy is an art architecture collaboration that reappropriates the taxi using it as a tool through which to rethink and propose a series of inteventions within and through the territory of the urban. taxi_onomy is an architectural and virtual interface. 1. the knowledge 2. cab mens shelters 3. 'proposal for a mobile archive' 4. 'mumbai city dictionary' 5. '200 questions: on art and public space'
La Asociación Cultural Alicante Vivo ha entregado a la alcaldesa de Alicante, la 'popular' Sonia Castedo, un informe para la conservación del Silo de Harinas Magro en el barrio de San Blas de este municipio, cuya demolición está anunciada para el próximo 25 de noviembre. El informe, elaborado en colaboración con el taller What If? de Camon y los arquitectos Alejandro Herrera, Jorge Galvañ, Mar Escribano, Jorge Toledo, Rubén Bodewig y Adriana Figueiras, pone de relevancia la importancia de esta construcción, que formó parte de un conjunto de edificaciones industriales de la primera mitad del siglo XX. Propuesta de Jorge Galvan. | E.M. Sus autores destacan los valores del silo como elemento patrimonial de singularidad arquitectónica dentro del conjunto de la ciudad de Alicante y apuntan a los posibles usos dotacionales que una rehabilitación comportaría, tal y como ha ocurrido en otros países de Europa y América.
Así podría ser el silo | Alicante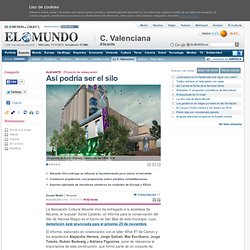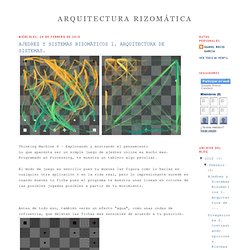 febrero 2010
por Eduardo de Santiago El presente texto viene a sustituir el vídeo de la conferencia que el autor impartió en la jornada inaugural del taller de trabajo "Condiciones Metropolitanas Contemporáneas". Se trata del artículo en el que Eduardo de Santiago basó su intervención. 1. Una lectura espacial del territorio contemporáneo: de la estructura formal a la estructura relacional.
No fueron sólo culturales las razones que definieron las características de la arquitectura Moderna en la Argentina en la década de 1930. Un factor económico decisivo para ello fue el surgimiento, en una enorme proporción, de sectores medios vinculados a las actividades comerciales, administrativas y de servicio, cuya expansión y posibilidades generaron el requerimiento de un tipo de alojamiento de aceptable calidad. Las construcciones en este período, siguiendo con la reflexión de Francisco Liernur, no eran encaradas con destino a la venta sino a la renta, dado que entre otros factores la legislación impedía el fraccionamiento de los inmuebles en propiedad horizontal. Paradójicamente la construcción de estos edificios fue producto de la Gran Crisis, cuyas consecuencias se advirtieron a pocos meses de desatarse en la bolsa de Nueva York. De 1929 a 1932 la inversión total en la construcción se redujo un 28,19% de lo que se movilizaba antes del crack.
ARQUITECTURA 4 - SCAGLIOTTI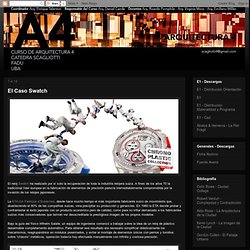 PROPUESTA DE VIABILIDAD PARA LA INTEGRACIÓN Y CONSERVACIÓN DEL SILO DE HARINAS MAGRO
Strawberry Paisly
pinkstarpirater: paperbeatsscissors: A national tragedy. This may be my favorite thing in the world. collegehumor: pancakes-and-penguins: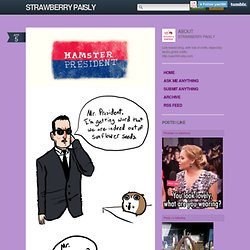 Arquitectura | con eñe de diseño | Página 4
I was asked to write an article around 'bottom-up planning' by Architectural Review Australia a while ago. It was published in the last issue, and I'm re-posting here. 'Bottom-up' is hardly the most elegant phrase, but I suspect you know what I mean. Either way, I re-cast it in the article as 'emergent urbanism' which captured a little more of the non-planning approaches I was interested in (note also the blog of same name, which I didn't know about beforehand).
Emergent Urbanism, or 'bottom-up planning'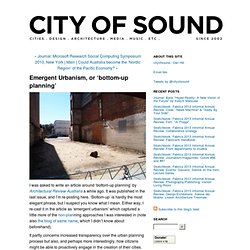 Teddy Cruz es uno de esos arquitectos que han conseguido superar las interpretaciones románticas sobre lo informal y lo imprevisible para introducirlo en sus procesos proyectuales como punto de arranque y posicionamiento. La lectura de los contextos urbanos contemporáneos desde puntos de vista multiescalares y radicalmente sociopolíticos, la introducción de lo "popular" como herramienta de aprendizaje y de proyecto plenamente viable, o la superación de las estéticas clásicas en las que se encuentra atrapada la arquitectura "cultural" para abrirla a la materialidad de los tiempos del hiperconsumo y el reciclaje, son algunas de sus propuestas con las que estamos alegremente de acuerdo.
» TEDDY CRUZ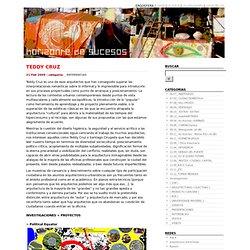 Live Show [Procaster] Fri Nov 12 2010 01:05:29 PM on Urban Social Design
Canine combat vet guards Pentagon halls1:56Soldier's shocking airport surprise1:52Gay Olympian: We've come a long way2:20WWII veteran receives special gift2:27Gay skater thought Olympics was impossible2:57Donor puts $3,500 ring in donation bucket1:27 W. Virginia Governor: 'It's pretty bad'4:29Mayor: Chemical spill is like a prison1:58Material has impacted the water supply2:15Chemical leak contaminates water source1:54Manchin: We'll find the culprit in spill2:48Fed. emergency in West Va. chemical leak2:35Chemical spill contaminates water Many without water after chemical spill GOP members gloat over Christie troubles2:39Who is former aide Bridget Anne Kelly?3:09New documents shed light on scandal1:50Christie denies involvement in scandal Giuliani: Dumb political prank backfired Christie: I fired Kelly because she lied Gov. Chris Christie's style: A bully?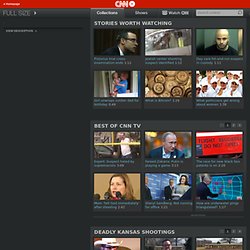 Video - Breaking News Videos from CNN.com - 'Slums' transformed into works of art
Web Map
Buckminster Fuller's Dymaxion World Dymaxion (Dynamic Maximum Tension) became the "brand name" Buckminster Fuller used to describe his feats of architecture, design, and even cartography†. Dymaxion House Elevationand Floor Plan†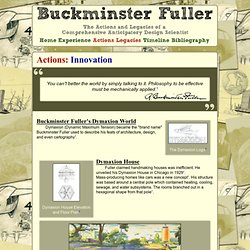 Buckminster Fuller | The Actions and Legacies of a Comprehensive Anticipatory Design Scientist
5) Critique of Fuller's Dymaxion Map compared to B.J.S. Cahill's Octahedral
Pau Faus