Presentations
Blog - Create Your Communications Experience
My friend Jason is a genius. Like many parents across the country, Jason had struggled to explain the price of college to his daughter. Seventeen-year-old Rachel had fallen in love with a school whose tuition is upwards of $60,000 a year. For a while Jason tried to communicate by multiplying that number. "You're going to graduate with a quarter-million dollars in debt," he would say.
The BBP Blog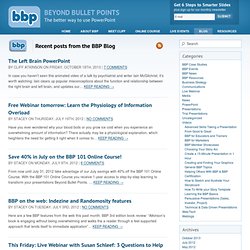 The Left Brain PowerPoint In case you haven't seen this animated video of a talk by psychiatrist and writer Iain McGilchrist, it's worth watching: Iain clears up popular misconceptions about the function and relationship between the right brain and left brain, and updates our… KEEP READING Free Webinar tomorrow: Learn the Physiology of Information Overload Have you ever wondered why your blood boils or you grow ice cold when you experience an overwhelming amount of information? There actually may be a physiological explanation, which heightens the need for getting it right when it comes to… KEEP READING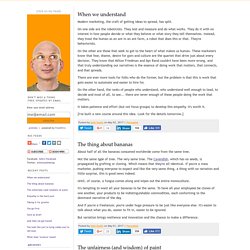 Seth's Blog
TL;DR is internet talk for "too long; didn't read". It's also a sad, dangerous symptom of the malfunctions caused by the internet tsunami. (Here's a most ironic example of this paradox...) The triathlete doesn't look for the coldest bottle of water as she jogs by... she wants it fast and now.