Graphisme
REZO ZERO. FRENCH CREATIVE STUDIO. AD / GRAPHIC DESIGN / PRINT / WEB / MOBILE
yannick mathey
octobre 2009 : Tous les messages - Diplôme graphisme & typo
L'application prototyp-0 est spécialement conçue pour le dessin de caractère. Grâce au procédé automatisé, prototyp-0 accélère considérablement le processus de création, permettant ainsi de générer dans un délai très court une multiplicité de polices typographiques complètes. Pour correspondre à ses critères, l'utilisateur pourra régler une vingtaine de paramètres (graisse, chasse, hauteur d'X, empattements, etc.) prev | next
prototyp-0 - yannick mathey
Commercial Type specimens -- Abi Huynh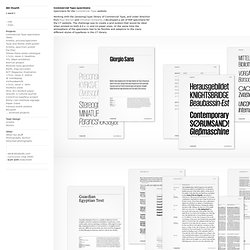 Commercial Type specimensSpecimens for the Commercial Type website Working with the (amazing) type library of Commercial Type, and under direction from Paul Barnes and Christian Schwartz, I developed a set of PDF specimens for the CT website. The challenge was to create a grid system that would be ideal when printed on both 8.5 x 11 and A4 paper sizes. At the same time the atmosphere of the specimens had to be flexible and adaptive to the many different styles of typefaces in the CT library.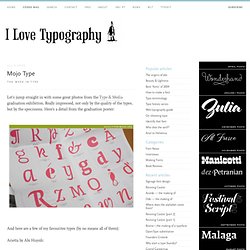 The Week in Type Let's jump straight in with some great photos from the Type & Media graduation exhibition. Really impressed, not only by the quality of the types, but by the specimens. Here's a detail from the graduation poster: And here are a few of my favourites types (by no means all of them): Arietta by Abi Huynh:
Mojo Type
BONUS
björk.com
unnamed pearl
Les 50 meilleures infographics et data visualization
Blending design, technology, and anthropology, Thinkers & Makers creates powerful ideas through strategy and collaboration. Forging a unique role, Thinkers & Makers sits between clients and agencies. They pursue key insights and foster meaningful ideas created from a capability-neutral perspective. Then, they seek out the best equipped, high calibre creatives to bring those ideas to life. Thinkers & Makers serves as the uniter of creatives and ideas, clients and agencies. Therefore, it was important for the primary symbol to represent this spirit of collaboration.
Ned Wright / Work / Thinkers & Makers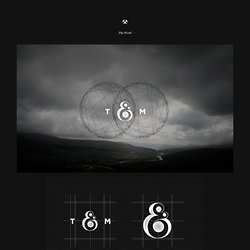 Fox Liquor Bar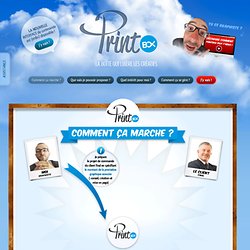 Gros tirage, finition spécifique, dimensions sur-mesure… parce que chez PrintBox nous sommes avant tout un imprimeur, nous sommes capables de répondre dans les meilleurs délais à toutes les demandes qui sortent de l'ordinaire. Notre catalogue recense plusieurs milliers de références, mais notre service commercial est à ta disposition pour trouver les solutions à toutes tes problématiques. En rejoignant le club PrintBox, tu bénéficieras d'un interlocuteur unique, compétent et réactif, capable d'accompagner jour après jour ta croissance.
PrintBox
ENSAL - École Nationale Supérieure d'Architecture de Lyon
- Reverb'Air
KIT DE SURVIE DU CREATIF /// metiersgraphiques.fr
The Whale Hunt / A storytelling experiment / by Jonathan Harris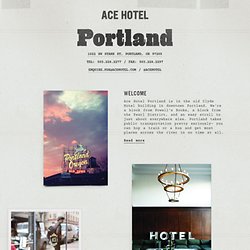 Ace Hotel Portland is built on the site of the historic Clyde Hotel. Built in 1912, the Clyde doubled as a station for the Oregon Electric Streetcar, and it's listed on the National Register of Historic Places. The Clyde is also notable as the setting for scenes in the Gus Van Sant film 'Drugstore Cowboy.'
Hotel Room Photos : Ace Hotel Portland
Compagnie I M P R O C O M - spectacles de prévention
Catherine Zask
Mardi 1er avril 2014, BDDP Unlimited fait table ouverte BDDP Unlimited a lancé le site d'inscription au banquet qu'elle organise dans son agence mardi 1er avril, à l'occasion de la Journée Agences Ouvertes initiée par l'AACC (Association des Agences-Conseils en Communication). Chacun peut désormais s'inscrire à ce déjeuner et au "café-conférence" qui suivra, via le site dédié lebanquetunlimited.com. Ce site donne accès au "plan de table" de ce banquet.
BDDP Unlimited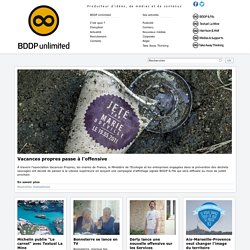 Pub Canal + : J'ai envie de réaliser un film
.: Maison Close - Le site :.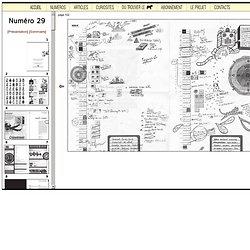 Au sommaire : DOSSIER : Résister - au second ou au premier degré. Ha ha ha, laissez-nous rire ! Résister, et puis quoi encore ? Pourquoi pas lire des livres et saboter des trains, tant que vous y êtes ? Non, non, non.
Le Tigre : Volume 29
Cross-média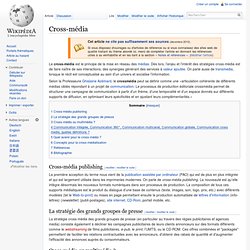 Un article de Wikipédia, l'encyclopédie libre. Le cross-média est le principe de la mise en réseau des médias. Dès lors, l'enjeu et l'intérêt des stratégies cross-média est de faire naître de ses interactions, des synergies générant des services à valeur ajoutée. On parle aussi de transmedia, lorsque le récit est conceptualisé au sein d'un univers et socialise l'information. Selon la Professeure Ghislaine Azémard, le crossmédia peut se définir comme une «articulation cohérente de différents médias ciblés répondant à un projet de communication. Le processus de production éditoriale crossmédia permet de structurer une campagne de communication à partir d'un thème, d'une temporalité et d'un espace donnés sur différents supports de diffusion, en optimisant leurs spécificités et en ajustant leurs complémentarités.»
Le site officiel de Vincent Perrottet.
J/ANTONESCU > Portfolio