Languages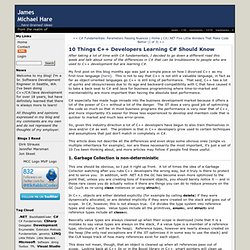 After taking a lot of time with C# fundamentals, I decided to go down a different road this week and talk about some of the differences in C# that can be troublesome to people who are used to C++ development but are learning C#. My first post on this blog months ago was just a simple piece on how I divorced C++ as my first-love language (here). This is not to say that C++ is not still a valuable language, in fact as far as object-oriented languages go C++ is still king of performance. That said, C++ has a lot of quirks and idiosyncrasies due to its age and backward-compatibility with C that have caused it to take a back seat to C# and Java for business programming where time-to-market and maintainability are more important than having the absolute best performance. C# especially has made huge inroads into the business development market because it offers a lot of the power of C++ without a lot of the danger.
10 Things C++ Developers Learning C# Should Know
Welcome to Scriptar.com
teejeejee: Playing with C++0x -- lambdas
C++0x has a workload of new features[2]... Today I'm having a look at lambdas. Lambdas are available in g++-4.5, for now only available in experimental.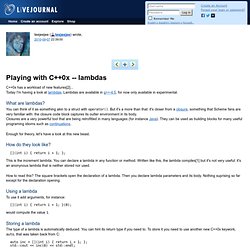 STL Containers
library Standard Containers