Indie Games Blog
Bytejacker | Reviews for Digitally Distributed and Free, Indepen. Ian Bogost. IndieGames.com-The Weblog. "Let the player enjoy the game -- if he enjoys the game he will be playing the game, and that's the time he wants to know the story.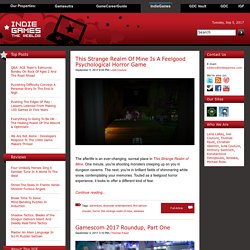 Start with the game, not with the story. " - Daisuke "Pixel" Amaya, speaking about the creation of Cave Story at GDC 2011. Cave Story creator Daisuke "Pixel" Amaya spoke frankly about his philosophy of game development and showed footage of the beta version of Cave Story during a postmortem presentation on the game at GDC 2011, and now that video is freely available for anyone to watch via the GDC Vault.
Amaya is expected to release his next game, Kero Blaster, sometime in 2014, and last week released prologue Pink Hour for free. We've taken the liberty of embedding the free video of "The Story of Cave Story" after the break, but you can also watch it here on the GDC Vault. Experimental Game Dev Podcast Show.
---