Tutorials DIY
Hoppy-template. Hoppy. Free Applique Templates. Bird and Text Collage Wall Art | FaveCrafts.com - StumbleUpon. [ Close Privacy Policy ] Privacy Policy / Your California Privacy Rights Revised and posted as of March 4, 2013 Prime Publishing, LLC ("Company," "we" or "us") reserves the right to revise this Privacy Policy at any time simply by posting such revision, so we encourage you to review it periodically.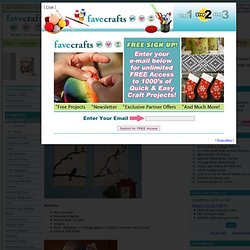 In order to track any changes to this Privacy Policy, we will include a historical reference at the top of this document. This Privacy Policy will tell you, among other things: Your California privacy rights. Scribd. Let's Sew… a RevoluzZzionary Easter Bunny | RevoluzZza. Last year I uploaded that pattern to create a simple Easter Bunny – and many of you made so wonderful and amazing Easter Bunnies!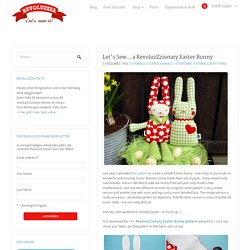 Some made them out of paper, many sewed really cute bunnies. And so I decided to take the bunny from last year (only made a few modifications) and sew two different versions by using the same pattern: a very simple version and another one with arms and legs and a more detailed face. The simple version is really very easy – absolutely perfect for beginners. Bird Mobile — Spool Sewing. I had been toying with the idea of a mobile project and our adorable bird pattern seemed the perfect fit.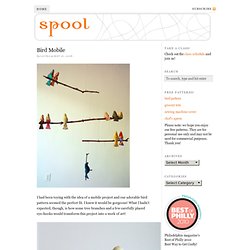 I knew it would be gorgeous! What I hadn't expected, though, is how some tree branches and a few carefully placed eye-hooks would transform this project into a work of art! This would be a welcome addition to a baby's room or a great project for a baby shower. Stuffed Fabric Turtles (with pattern pieces) We were shopping around, down in Florida, after we went to the zoo several weeks ago (yes, in Jacksonville…..some of you asked)……..and we stopped by a Pottery Barn Kids store.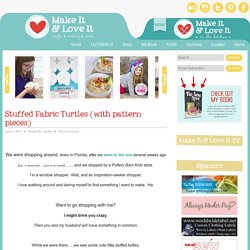 I'm a window shopper. Well, and an inspiration-seeker shopper. I love walking around and daring myself to find something I want to make. Birdie-pincushion-project.pdf (application/pdf Object) Sew a bag with the free bag pattern | Sew Easy. Make Your Own Canvas Portrait! I love the look of family photos printed on canvas, but I never knew I could make them at home!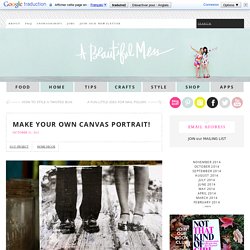 After transferring photos to fabric, I was super excited to try some pieces using stretched canvas. I hope this inspires some of you to make something special for your home... Here's how I transferred my photo to canvas: 1. Floral Boots DIY. We're just a little too excited about spring around here!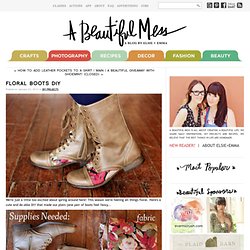 This season we're feeling all things floral. Here's a cute and do-able DIY that made our plain-jane pair of boots feel fancy... Purl Bee Penguin. Winter in New York City can be hard to love with its frozen sidewalks, dirty snowbanks, and bare trees.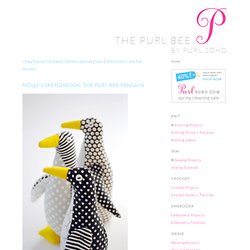 But this winter I'm counting on my new cold weather friend, the Purl Bee Penguin, to help me through! Its happy ovoid shape and graphic palette are sure to remind me that joy really does exist in January. Just ask an Emperor Penguin! I used our new Penguin Fat Quarter Bundle, a lively mix of black and white dots, stripes, and prints, to sew up this quirky little trio of penguins.
DIY clothes
Inspire to Create - Art Journal Tutorial. Hi and welcome!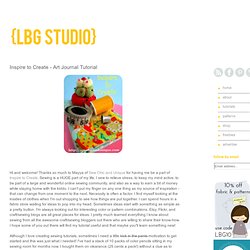 Thanks so much to Mayya of Sew Chic and Unique for having me be a part of Inspire to Create. Sewing is a HUGE part of my life. I sew to relieve stress, to keep my mind active, to be part of a large and wonderful online sewing community, and also as a way to earn a bit of money while staying home with the kiddo. I can't put my finger on any one thing as my source of inspiration - that can change from one moment to the next. Necessity is often a factor. Quick and easy tutorial: mini coloring tote. My kiddo needed a gift to bring to her preschool for a gift exchange.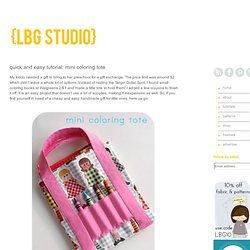 The price limit was around $2 which didn't leave a whole lot of options. Instead of raiding the Target Dollar Spot, I found small coloring books at Walgreens 2/$1 and made a little tote to hold them! I added a few crayons to finish it off.
---