Software - Freeware
SARDU creates a multiboot USB drive, a multiboot DVD ISO or multiboot CD ISO (all-in-one) for free (personal and non commercial use, read the license). Hard disks (internal and external), SSD, USB flash drive and all removable memory disk and media are supported. The multi bootable device can include comprehensive collections of antivirus rescue CD, utilities and popular Linux live distributions. Windows PE can also be included, as well as recovery disks and install media for Windows XP (Professional, Home and 64 Bit), Windows Vista, Windows Seven and Windows Eight. The multiboot USB supports and manage USB stick, pendrive, hard disks, SSD or removable media. All one has to do is download the desired ISOs with the integrated downloader and use SARDU to add them to the multi boot menu.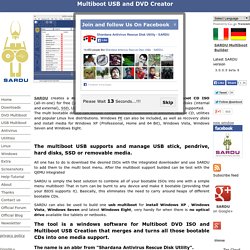 What's New? Microsoft releases source code to MS-DOS Several people emailed us to share the news that Microsoft released the source code to MS-DOS through the Computer History Museum. From the MS TechNet blog post: "As part of this ongoing project, the museum will make available two of the most widely used software programs of the 1980?s, MS DOS 1.1 and 2.0 and Microsoft Word for Windows 1.1a, to help future generations of technologists better understand the roots of personal computing."
FreeDOS | The FreeDOS Project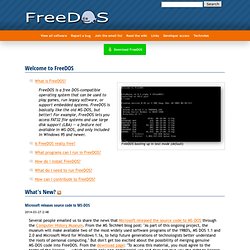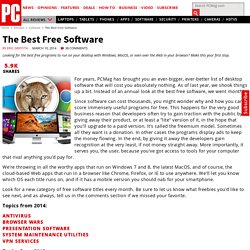 Looking for the best free programs to run on your desktop with Windows, MacOS, or even over the Web in your browser? Make this your first stop. For years, PCMag has brought you an ever-bigger, ever-better list of desktop software that will cost you absolutely nothing. As of last year, we shook things up a bit. Instead of an annual look at the best free software, we went monthly.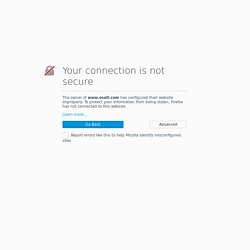 Today the future of internet begins - and open source is readyCompanies world-wide start to embrace the new standard for communication on the internet; the Internet Protocol version 6 - also known as IPv6. IPv6 will at some point replace existing IPv4 which have been used to transport our data through the internet for more than 30 years. The main reason to switch is that IPv4 only allows around 4 billion internet addresses. In order for one device to communicate with another on the internet each of them has to have a unique internet address (IP address). With the number of devices currently on the market - computers, smartphones, smart tvs and set-top boxes - we are already out of addresses. However, clever manipulation allows some devices to share IP addresses with other devices, but this is not an ideal situation.
Batteries Included The things you need are built-in. Translations, database access, caching, validation, authentication, and much more are all built into one of the original PHP MVC frameworks. Clean MVC Conventions Instead of having to plan where things go, CakePHP comes with a set of conventions to guide you in developing your application.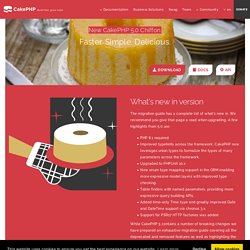 This article was posted on: Sun, 13 Apr 2014 12:32:21 +0000 Sponsorships: Linux Mint is proudly sponsored by: Gold Sponsors: Silver Sponsors: Bronze Sponsors: Community Sponsors: Alyx Biologicals B.V. Windows VPS Hosting +++ PDF Reader for Android +++ +++ PDF Reader for Android +++ Caturix Cesar Alvarez Charles Rivers Craig D M Hamilton DRA MEDICAL fotokasten GmbH Inge Vabekk Johan Grip John Bayles Pianos Kristian S. [...] Read more This article was posted on: Sun, 13 Apr 2014 12:07:10 +0000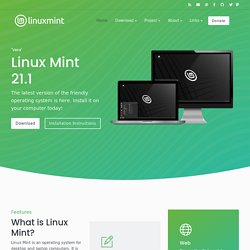 Taksi can support live video compression with any VFW video codec your system has installed (i.e. XVid, DivX, MS Mpeg4, etc). Supports user-specified key mapping, allowing user to assign almost any key to a particular function (such as video start/stop, screenshot trigger, etc.).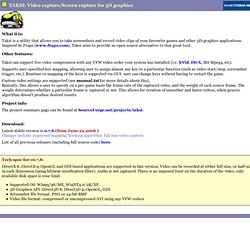 Taksi: Video capture/Screen capture for 3D applications
infojunkie committed Add date to ebook formatter + fix MIME... sammarks15 committed Fix old references from entity_menu_links Ben Howes committed Merge pull request #2 from ZoetropeImaging/7... Ben Howes committed added example of templating Ben Howes committed updated README with display formatter info Ben Howes committed added field formatter to combine with a list...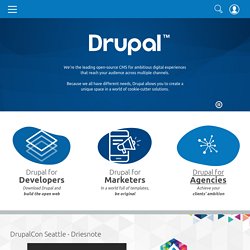 Unison is a file-synchronization tool for Unix and Windows. It allows two replicas of a collection of files and directories to be stored on different hosts (or different disks on the same host), modified separately, and then brought up to date by propagating the changes in each replica to the other. Unison shares a number of features with tools such as configuration management packages (CVS, PRCS, Subversion, BitKeeper, etc.), distributed filesystems (Coda, etc.), uni-directional mirroring utilities (rsync, etc.), and other synchronizers (Intellisync, Reconcile, etc). However, there are several points where it differs: Unison runs on both Windows and many flavors of Unix (Solaris, Linux, OS X, etc.) systems. Moreover, Unison works across platforms, allowing you to synchronize a Windows laptop with a Unix server, for example.