Software - Freeware
FreeDOS | The FreeDOS Project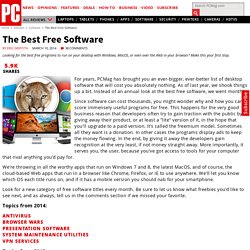 It's the fifth year of PCMag's look at the best stuff you don't have to pay for, and it's our biggest list of great free software yet.
phpDesigner 8 - All-In-One PHP IDE & PHP Editor & HTML5 Editor & Web Editor | MPSOFTWARE
Taksi: Video capture/Screen capture for 3D applications
Unison is a file-synchronization tool for Unix and Windows. It allows two replicas of a collection of files and directories to be stored on different hosts (or different disks on the same host), modified separately, and then brought up to date by propagating the changes in each replica to the other.