Photoshop-like
software - What are the key photography-related features from Photoshop that are missing in GIMP? - Photography - Stack Exchange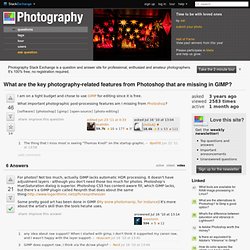 This may seem biased/unfair, but GIMP has awful usability. Disclaimer: i have used both, although recently i use photoshop much more. In terms of functionality, GIMP doesn't tread much behind photoshop (for simple photomanips and adjustments - i don't do HDR), but layer manipulation and general use are tortuous (IMHO). I never couldn't do a task with GIMP, but i end up searching online how to do it, whereas in Photoshop i tend to find stuff on the menus or figure it out by myself.
If Matt's answer about the nature of vibrance is correct (and the Adobe documentation agrees), you may be able to obtain a similar effect in GIMP. However, I don't have any Adobe software, so I can't judge how closely this actually matches Adobe's effect. Use Colors -> Components -> Decompose, decompose to Hue/Saturation/Value or Hue/Saturation/Luminance. Select the Saturation layer and use Curves to boost the saturation of the unsaturated parts of the image.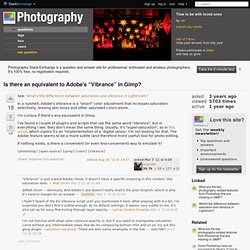 photoshop - Is there an equivalent to Adobe's "Vibrance" in Gimp? - Photography - Stack Exchange
Advertisement GIMP is the favorite graphics editing program of many designers and graphic artists. It is free and compatible with Windows, Mac and Linux (the two big reasons for its popularity). It has a wide array of features, as well as plug-ins, filters and brushes. Documentation is primarily available in online communities, as well as through extensive add-ons. GIMP was never designed to replace Photoshop, yet with every release, it comes a little closer to being able to do so.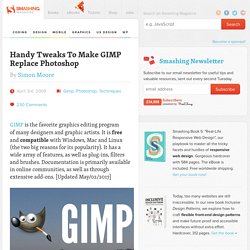 PSPI is a GIMP plug-in that runs 3rd-party Photoshop plug-in filters. I wrote it in 2001, and it initially worked on Windows only. Then nothing much happened until March 2006 when it became available also on Linux. All that was needed, basically, was for somebody to try building it using winegcc. Possibly building and running it on Linux might have worked already years ago, but nobody tried... Thanks to Mukund for trying it on Linux and reporting the success!
Tor Lillqvist--PSPI: Running Photoshop plug-ins in GIMP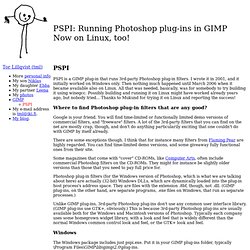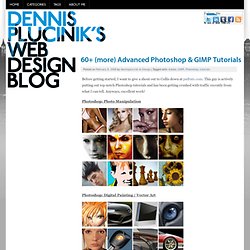 Skip to content Dennis Plucinik's Web Design Blog Just another WordPress site