Photoshop-like
Software - What are the key photography-related features from Photoshop that are missing in GIMP? - Photography - Stack Exchange. Photoshop - Is there an equivalent to Adobe's "Vibrance" in Gimp? - Photography - Stack Exchange. Handy Tweaks To Make GIMP Replace Photoshop - Smashing Magazine. Advertisement GIMP is the favorite graphics editing program of many designers and graphic artists.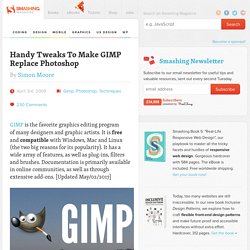 It is free and compatible with Windows, Mac and Linux (the two big reasons for its popularity). It has a wide array of features, as well as plug-ins, filters and brushes. Documentation is primarily available in online communities, as well as through extensive add-ons. GIMP was never designed to replace Photoshop, yet with every release, it comes a little closer to being able to do so. Tor Lillqvist--PSPI: Running Photoshop plug-ins in GIMP. PSPI is a GIMP plug-in that runs 3rd-party Photoshop plug-in filters.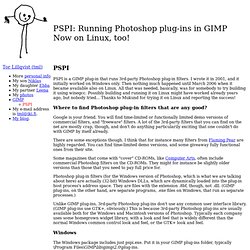 I wrote it in 2001, and it initially worked on Windows only. Then nothing much happened until March 2006 when it became available also on Linux. All that was needed, basically, was for somebody to try building it using winegcc. Possibly building and running it on Linux might have worked already years ago, but nobody tried... Thanks to Mukund for trying it on Linux and reporting the success! 60+ (more) Advanced Photoshop & GIMP Tutorials | Dennis Plucinik's Web Design Blog. Skip to content Dennis Plucinik's Web Design Blog Just another WordPress site.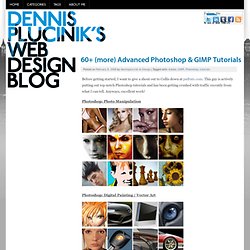 ---