DIY
It was Red Ribbon week at my daughter's school this week and their first dress up day was tie dye t-shirts and wouldn't you know she didn't have anything tie dye in her closet. So we decided to do a little art project together and make something with what we had on hand. I have seen several different examples and directions for this on the internet so we took what we found from various searches and modified it just a little bit. Here's what you'll need and the steps we followed: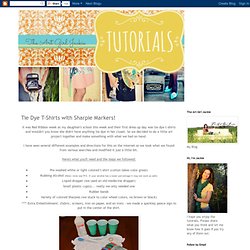 Thursday, June 14, 2012 4:30 am, Posted by Chris Groves | Internet 20 Awesome Do It Yourself Projects Topics: At Home Project Ideas , Creative DIY Home Projects , Do It Yourself Projects for 2012 , Fun How To Projects , What to Do with Extra Stuff
10 Remarkable DIY Cleaning Solutions | Picklee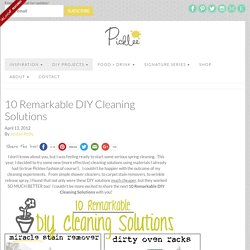 I don't know about you, but I was feeling ready to start some serious spring cleaning. This year, I decided to try some new (more effective) cleaning solutions using materials I already had (in true Picklee fashion of course!). I couldn't be happier with the outcome of my cleaning experiments. From simple shower cleaners, to carpet stain removers, to wrinkle release spray, I found that not only were these DIY solutions much cheaper , but they worked SO MUCH BETTER too!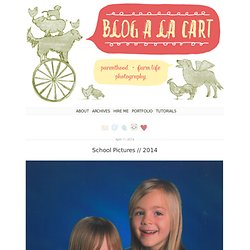 It's been quite some time since I showcased a DIY project here. Admittedly, it's because it's been quite some time since I've done one. I did many knitting projects for Christmas presents and documented exactly none of them (#fail), and have been on a craft/diy hiatus most of 2014. But the girls' preschool has their annual fundraiser this coming weekend, and I volunteered to be on the decor committee for the dance on Saturday night. The theme is "Under the Sea," so I offered to create some spirited albeit elegant jellyfish lanterns for the occasion. I am quite pleased with the result.
Blog a la Cart
The SoHo
Grow The Easiest Garden on Earth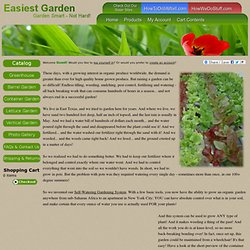 These days, with a growing interest in organic produce worldwide, the demand is greater than ever for high quality home grown produce. But raising a garden can be so difficult! Endless tilling, weeding, mulching, pest control, fertilizing and watering - all back breaking work that can consume hundreds of hours in a season... and not always end in a successful garden! We live in East Texas, and we tried to garden here for years. And where we live, we have sand two hundred feet deep, half an inch of topsoil, and the last rain is usually in May. And we had a water bill of hundreds of dollars each month... and the water poured right through the sand and disappeared before the plant could use it!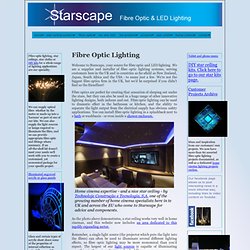 Welcome to Starscape, your source for fibre optic and LED lighting. We are a supplier and installer of fibre optic lighting systems, serving customers here in the UK and in countries as far afield as New Zealand, Japan, South Africa and the USA - to name just a few. We're not the biggest fibre optics firm in the UK, but we'd be surprised if you didn't find us the friendliest! Fibre optics are perfect for creating that sensation of sleeping out under the stars, but they can also be used in a huge range of other innovative lighting designs, both indoors and out.
Good Ideas and Tips | Craft and Decorating Ideas | Idea Blog
Flubber | OMSI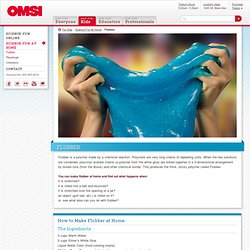 Flubber is a polymer made by a chemical reaction. Polymers are very long chains of repeating units. When the two solutions are combined, polyvinyl acetate chains (a polymer from the white glue) are linked together in a 3-dimensional arrangement by borate ions (from the Borax) and other chemical bonds. This produces the thick, sticky polymer called Flubber. You can make flubber at home and find out what happens when: it is stretched?