DIY
It was Red Ribbon week at my daughter's school this week and their first dress up day was tie dye t-shirts and wouldn't you know she didn't have anything tie dye in her closet. So we decided to do a little art project together and make something with what we had on hand. I have seen several different examples and directions for this on the internet so we took what we found from various searches and modified it just a little bit. Here's what you'll need and the steps we followed: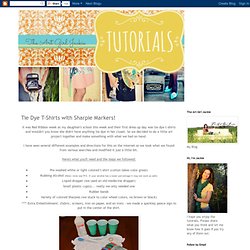 Thursday, June 14, 2012 4:30 am, Posted by Chris Groves | Internet 20 Awesome Do It Yourself Projects Topics: At Home Project Ideas , Creative DIY Home Projects , Do It Yourself Projects for 2012 , Fun How To Projects , What to Do with Extra Stuff
10 Remarkable DIY Cleaning Solutions | Picklee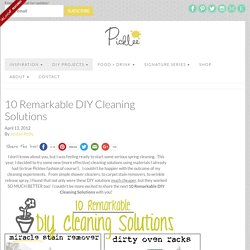 I don't know about you, but I was feeling ready to start some serious spring cleaning. This year, I decided to try some new (more effective) cleaning solutions using materials I already had (in true Picklee fashion of course!). I couldn't be happier with the outcome of my cleaning experiments. From simple shower cleaners, to carpet stain removers, to wrinkle release spray, I found that not only were these DIY solutions much cheaper , but they worked SO MUCH BETTER too!
Blog a la Cart
The SoHo
Grow The Easiest Garden on Earth
Fibre optic garden path lighting.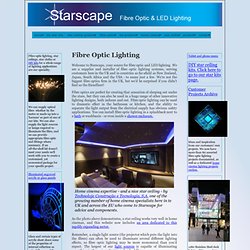 We're always very interested to hear from clients who have used our DIY kits in fibre optic lighting projects in and around their homes. Details of a very impressive project were sent to us by A.M. of Cambridgeshire who, in the days before we offered bespoke "Custom" kits, used two of our "Intermediate" lighting kits to create a very attractive garden path lighting effect. That standard Intermediate Star Kit was offered with a 3 metre fibre optic harness, but since this was not long enough for her requirements A. M. specified a customised harness for one of the kits to add an extra 4 metres to the length of the harness.
Good Ideas and Tips | Craft and Decorating Ideas | Idea Blog
Flubber | OMSI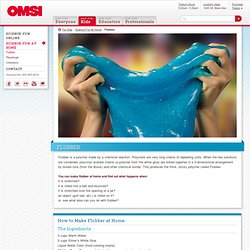 Flubber is a polymer made by a chemical reaction. Polymers are very long chains of repeating units. When the two solutions are combined, polyvinyl acetate chains (a polymer from the white glue) are linked together in a 3-dimensional arrangement by borate ions (from the Borax) and other chemical bonds. This produces the thick, sticky polymer called Flubber. You can make flubber at home and find out what happens when: it is stretched?