Ilustración
I Love Dust
The Visual Work Of Mike Lemanski » Maintenance Mode
Digital Art Publishing House | Limited Edition Prints
Ed Nacional | design / typography / illustration
david gentleman
Matt Lehman Studio
Leire Salaberria
violeta lopiz
Work | Jolby & Friends
La guía de las rutas inciertas
La ruta empieza con la libreta en blanco. Clara Nubiola empieza a caminar. Mientras va andando, va observando. Contempla la ciudad de un modo distinto a la ceguera desde la que mira la mayor parte de la población, cada día, cuando pasa por un mismo lugar.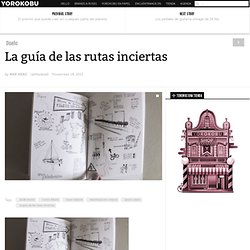 MAYOR DE 18 AñOS ABSOLUT endorses responsible and moderate drinking. For this reason, we would like to recommend the following reading: Distilled Spirits Council of the United States (DISCUS) , and The European Forum for Responsible Drinking (EFRD) . ABSOLUT® Vodka Product of Sweden.
absolut
Velcro Suit - The Graphic Design and Illustration of Adam Hill
Gary Taxali Illustration » | Home
Eduardo Sarmiento
Home : riccardo guasco
Zara Illustrates - Zara Picken Illustration - Home
E.W. Thomason is an illustrator and a designer.