Ilustración
The Visual Work Of Mike Lemanski » Maintenance Mode
Digital Art Publishing House | Limited Edition Prints
Ed Nacional | design / typography / illustration
david gentleman
Matt Lehman Studio
Leire Salaberria
violeta lopiz
Work | Jolby & Friends
La guía de las rutas inciertas
Tags: bside booksCarlos Albaláclara nubioladeambulación urbanaIgnasi Lópezla guía de las rutas inciertas La ruta empieza con la libreta en blanco. Clara Nubiola empieza a caminar. Mientras va andando, va observando.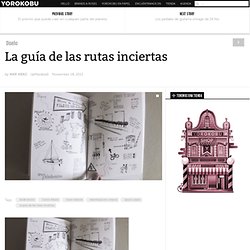 MAYOR DE 18 AñOS ABSOLUT endorses responsible and moderate drinking. For this reason, we would like to recommend the following reading: Distilled Spirits Council of the United States (DISCUS) , and The European Forum for Responsible Drinking (EFRD) . ABSOLUT® Vodka Product of Sweden.
absolut
Velcro Suit - The Graphic Design and Illustration of Adam Hill
Gary Taxali Illustration » | Home
Eduardo Sarmiento
Home : riccardo guasco
Zara Illustrates - Zara Picken Illustration - Home
E.W. Thomason is an illustrator and a designer.