CC - licences - © - exception p
Cyberspace and Internet Law | Paralegal.net
The internet was introduced by the European Center for Nuclear Research in 1991 as a way to connect the world in an unprecedented system of information sharing. While its founding principles espoused neutrality and transparency, today it exhibits much corruption and deception. As the use of the internet grew and its tools were exploited for the purposes of business and criminal activity, politicians began to realize that laws were necessary to keep order and prevent fraud.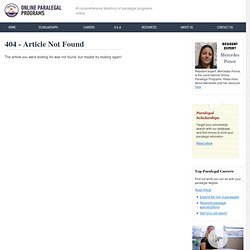 Julia's dream is to make a living as a photographer.
Copyright and Creative Commons | Common Craft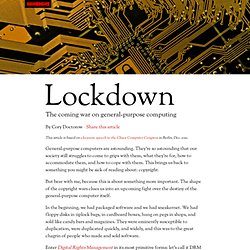 Lockdown: The coming war on general-purpose computing
By Cory Doctorow - Share this article This article is based on a keynote speech to the Chaos Computer Congress in Berlin, Dec. 2011. General-purpose computers are astounding.
Blogueur et auteur : où est le droit d'auteur ? | Actulligence.com | Veille Stratégique, Intelligence Economique »
Aujourd'hui c'était donc i-expo pour moi. Une bien belle journée et plein de rencontres faite malheureusement trop à la va vite par manque de temps. Mais j'ai enfin pu mettre des visages et serrer la main à des personnes que je ne connaissais que sur le Réseau.
(Version de travail; destinee a lecture orale) Three usual mistakes about IP & globalization. A few days ago, the US told Russia it would be impossible for the country to join WTO if it doesn't shut down a website selling western music without any licence. At the same time, the European Union told China it was high time to stop being comprehensive with all the counterfeiting goods exported from the country.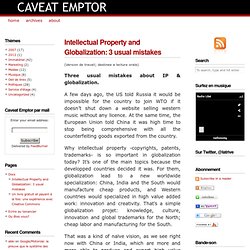 Intellectual Property and Globalization: 3 usual mistakes
Du bon usage de la Piraterie.pdf (Objet application/pdf)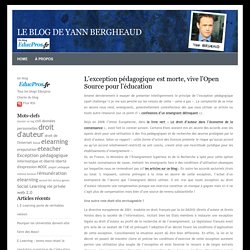 Amené dernièrement à essayer de présenter intelligemment le principe de l'exception pédagogique (quel challenge !) je me suis penché sur les raisons de cette « usine à gaz ». La complexité de sa mise en œuvre nous rend, enseignants, potentiellement contrefacteur dès que nous utiliser un article ou toute autre ressource (sur ce point cf « confessions d'un enseignant délinquant » ). Déjà en 2008 l'Union Européenne, dans le livre vert « Le droit d'auteur dans l'économie de la connaissance » , avait fait le constat suivant. Certains Etats avaient mis en œuvre des accords avec les ayants droit pour une utilisation à des fins pédagogiques et de recherche des œuvres protégées par le droit d'auteur. Selon ce rapport « cette forme d'octroi des licences présente le risque qu'aucun accord ou qu'un accord relativement restrictif ne soit conclu, créant ainsi une incertitude juridique pour les établissements d'enseignement » .
L'exception pedagogique est morte, vive l Open Source pour l'education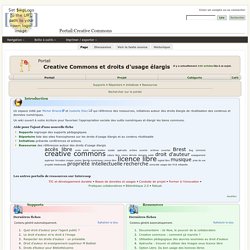 Un espace initié par Michel Briand et Isabelle Eliez qui référence des ressources, initiatives autour des droits élargis de réutilisation des contenus et données numériques. Un wiki ouvert à votre écriture pour favoriser l'appropriation sociale des outils numériques et élargir les biens communs. Aide pour l'ajout d'une nouvelle fiche regroupe des supports pédagogiques
Portail:Creative Commons - Intercoop
Copier coller et le droit d'auteur