Festivals/ travel
FutureEverything. Open Culture + Wearables. This panel will in­ves­ti­gate the in­flu­ence and im­por­tance of open cul­ture on wear­ables pro­duc­tion, dis­sem­i­na­tion and tech­no­log­i­cal craft­ing.
Unit­ing prac­ti­tion­ers in the field of wear­ables who have worked on and with on­line plat­forms, open work­shop events, pub­li­ca­tions, hack spaces, uni­ver­sity class­rooms and media labs to ad­vance the pro­lif­er­a­tion of the craft of wear­ables, the panel will pre­sent case stud­ies for the spe­cific in­te­gra­tion of open cul­ture in the pro­duc­tion and dis­sem­i­na­tion of wear­ables. Dates: Institute for the Unstable Media. About us | Haus für elektronische Künste. The House of Electronic Arts (HeK) is the national competence centre that deals with art forms that address and reflect upon new media and technologies.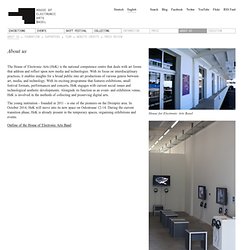 With its focus on interdisciplinary practices, it enables insights for a broad public into art productions of various genres between art, media, and technology. With its exciting programme that features exhibitions, small festival formats, performances and concerts, HeK engages with current social issues and technological aesthetic developments. Alongside its function as an event- and exhibition venue, HeK is involved in the methods of collecting and preserving digital arts. [KONTEJNER] - Home. KONTEJNER is inviting all artists, inventors, scientists, geek tech lovers and all other passionate tech heads to enter the open call and apply their works for presentation at the fourth edition of Device_art!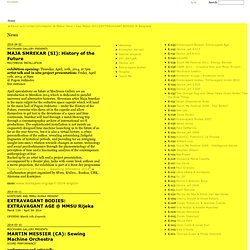 The call for proposals is open until May 2nd 2012. The term device_art refers to art production based on various aspects of technological devices and mechanisms: the creative usage of analogue/digital, high/low technologies, also including devices, gadgets, machines, robots and tech oriented performances.
Projects ++ ARS Electronica | Ars Electronica Festival. Am 18.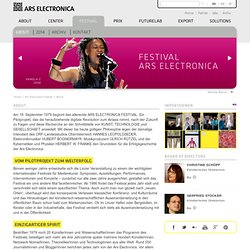 September 1979 beginnt das allererste ARS ELECTRONICA FESTIVAL. Ein Pilotprojekt, das die heraufziehende digitale Revolution zum Anlass nimmt, nach der Zukunft zu fragen und diese Recherche an der Schnittstelle von KUNST, TECHNOLOGIE und GESELLSCHAFT ansiedelt. Mit dieser bis heute gültigen Philosophie legen der damalige Intendant des ORF-Landesstudios Oberösterreich HANNES LEOPOLDSEDER, Elektronikmusiker HUBERT BOGNERMAYR, Musikproduzent ULRICH RÜTZEL und der Kybernetiker und Physiker HERBERT W.
FRANKE den Grundstein für die Erfolgsgeschichte der Ars Electronica. The Festival | Festival del Sole.
---