Most Excellent Sites
Bread cetera
Baguettes à la Bouabsa When I first started learning how to bake bread a few years ago, my goal then, as it is to this day, was to be able to bake breads with superior flavor, texture and aesthetics. Most of the bread books I'd read at the time, as well as most of the professional bakers with whom I'd spoken, had emphasized the use of a preferment, whether it be a pâte fermentée, poolish or levain, to bring out the maximum flavor of the bread.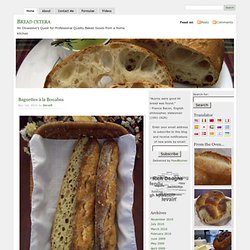 The Food System The Food System - Center for Agroecology and Sustainable Food Systems Social Issues Team and Elliott Kuhn (graphic artist), 2004. Agricultural Treadmills PDF version of Agricultural Teadmills For more detail see: Howard, Philip H. 2009. Visualizing Consolidation in the Global Seed Industry: 1996–2008.
Philip H. Howard | The Food System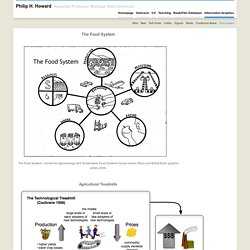 but does it float Images
Brain Pickings is the brain child of Maria Popova, an interestingness hunter-gatherer and curious mind at large, who has also written for Wired UK, The New York Times, Harvard's Nieman Journalism Lab, and The Atlantic, among others, and is an MIT Futures of Entertainment Fellow. Maria Popova. Photograph by Elizabeth Lippman for The New York Times Brain Pickings is a human-powered discovery engine for interestingness, a subjective lens on what matters in the world and why, bringing you things you didn't know you were interested in — until you are. Founded in 2006 as a humble email digest and eventually brought online, the site was included in the Library of Congress permanent web archive in 2012.
Seed Media Group : About : Vision
Emanuele Ruffaldi Website (v3) | Main / HomePage browse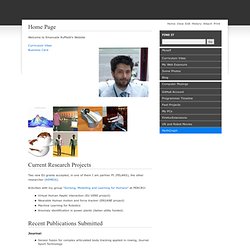 Welcome to Emanuele Ruffaldi's Website Curriculum Vitae Business Card Current Research Projects Two new EU grants accepted, in one of them I am partner PI (PELARS), the other researcher (REMEDI). Activities with my group "Sensing, Modelling and Learning for Humans" at PERCRO: Virtual Human Haptic interaction (EU VERE project) Wearable Human motion and force tracker (ERGANE project) Machine Learning for Robotics Anomaly identification in power plants (italian utility funded)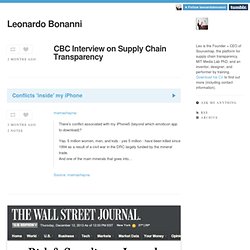 leonardo bonanni
This summer I reached a personal milestone: my first triathlon. I swam in the Merrimack river, and rode and ran through the streets of Lowell, Massachusetts. The Mill City triathlon is named after the massive brick buildings that line the banks of the river. In the 1850s, those mills made Lowell the largest industrial center in the United States, producing 50,000 miles of cloth each year. Today the mills are converted into comfortable lofts, offices and a museum.
All Autodesk Products - 2D and 3D Design Product List