Most Excellent Sites
Panorama de l'art. Photojournal: NASA's Image Access Home Page. Bread cetera. The Food System. The Food System The Food System - Center for Agroecology and Sustainable Food Systems Social Issues Team and Elliott Kuhn (graphic artist), 2004.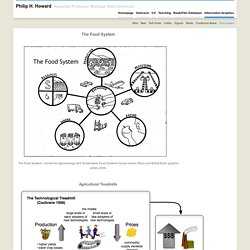 Agricultural Treadmills PDF version of Agricultural Teadmills For more detail see: Howard, Philip H. 2009. Visualizing Consolidation in the Global Seed Industry: 1996–2008. Wellness Mama - Health, Nutrition, Recipes, Natural Living, Fitness. 5 Gyres – Understanding Plastic Pollution Through Exploration, Education, and Action. But does it float Images. Visual Archive this is colossal. About brainpickings.org. Brain Pickings is the brain child of Maria Popova, an interestingness hunter-gatherer and curious mind at large, who has also written for Wired UK, The New York Times, Harvard's Nieman Journalism Lab, and The Atlantic, among others, and is an MIT Futures of Entertainment Fellow.
Maria Popova. Photograph by Elizabeth Lippman for The New York Times Brain Pickings is a human-powered discovery engine for interestingness, a subjective lens on what matters in the world and why, bringing you things you didn't know you were interested in — until you are. Founded in 2006 as a humble email digest and eventually brought online, the site was included in the Library of Congress permanent web archive in 2012. For Seed by Jonathan Harris. Seed Media Group : About : Vision. Emanuele Ruffaldi Website (v3) | Main / HomePage browse. Leonardo bonanni. Fourmilab. All Autodesk Products - 2D and 3D Design Product List. Erowid.
---