Game Designers
Confessions of a Quirky Christian Artist. Flark Design - Knowing the game — by Mike Birkhead. Keeping Games & Toys Fun! - GameAndToyConnection.com. What Games Are. The Ludologist. This is my second Patch Wednesday post where I discuss a question about video games that I think is unanswered, unexplored, or simply not posed yet.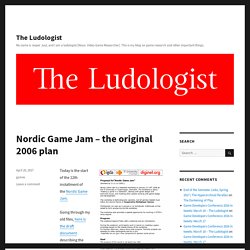 I will propose my own tentative ideas, and invite comments. The header does sound a bit like Ash Wednesday, so we can reaffirm our faith in the idea of examining video games, but I also call it Patch Wednesday to mark the sometimes ragtag and improvised character of video game studies. It falls mostly on the day after Microsoft's monthly Patch Tuesday. Time to patch things up and start again. It seems a long time ago, but I once wrote a book called A Casual Revolution (2009), where I talked about the expansion of the video game audience, and focused particularly on the downloadable casual games, the Nintendo Wii, and music games. Teaching Game Design. Howtonotsuckatgamedesign. Fine Game Design - Ethan Kennerly. Google Translate. Gamepocalypse Now. Applied Game Design. Gaming. Under graphical re-construction This site focusses on my hobby board game mechanics and board game development (check the concept link).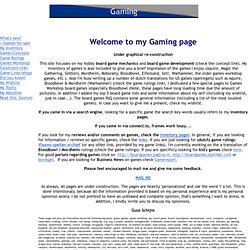 My inventory of games is also included to give you a brief impression of the games I enjoy (Aquire, Magic the Gathering, Settlers, Mordheim, Roborally, Bloodbowl, Elfenland, Set! , Warhammer, the older games workshop games, etc.). Also I'm busy writing up a number of dutch translations for US games (spelregels) such as Aquire, Bloodbowl & Mordheim (Warhammer) (check the game rulings link).
I dedicated a few special pages to Games Workshop board games (especially Bloodbowl (Note, these pages have long loading time due the amount of pictures). DarrellHardy.com. Zen of Design. Lost Garden. In-lusio. Sloperama Productions - スローパーラマ プロダクションズ. Greg Costikyan.
---