Game Designers
Confessions of a Quirky Christian Artist
Flark Design - Knowing the game — by Mike Birkhead
Keeping Games & Toys Fun! - GameAndToyConnection.com
What Games Are
About that word, ludology: A few years ago, we tried to identify the historical first use of the word. My search lead me to identify Mihaly (Flow) Csikszentmihalyi's 1982 article "Does Being Human Matter – On Some Interpretive Problems of Comparative Ludology".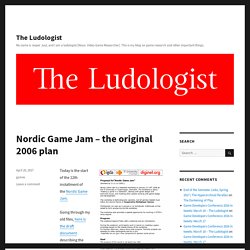 The Ludologist
Teaching Game Design
howtonotsuckatgamedesign
Fine Game Design - Ethan Kennerly
Google Translate
Gamepocalypse Now
Applied Game Design
Under graphical re-construction This site focusses on my hobby board game mechanics and board game development (check the concept link).
Gaming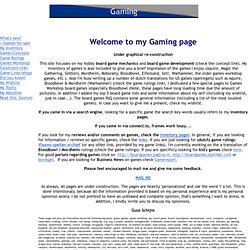 DarrellHardy.com
Zen of Design
Lost Garden
in-lusio
Sloperama Productions - スローパーラマ プロダクションズ
Greg Costikyan