Game Designers
Confessions of a Quirky Christian Artist
Flark Design - Knowing the game — by Mike Birkhead
Keeping Games & Toys Fun! - GameAndToyConnection.com
If you recall the history of game definitions, you remember how Wittgenstein discounted the possibility that the things that we call "games" (or rather Spiele in German) have anything in common, and argued that they rather have family resemblances . Wittgenstein's argument is basically to say that naive people/philosophers assume that words have definite meanings, but that if we consider his range of examples, from board, to card, to ball games, to Ring a Ring o' Roses , it will be clear that the things we call games have nothing in common.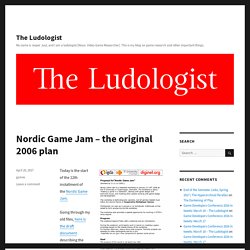 The Ludologist
Teaching Game Design
howtonotsuckatgamedesign
Fine Game Design - Ethan Kennerly
Google Translate
Gamepocalypse Now
Applied Game Design
Under graphical re-construction This site focusses on my hobby board game mechanics and board game development (check the concept link).
Gaming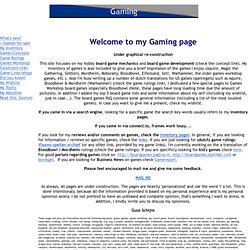 DarrellHardy.com
Zen of Design
in-lusio
Sloperama Productions - スローパーラマ プロダクションズ
Greg Costikyan