Curiosité intellectuelle
Themes. A Greener Future?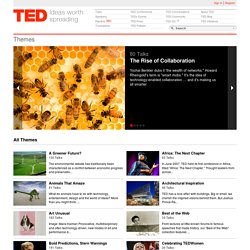 125 Talks The environmental debate has traditionally been characterized as a conflict between economic progress and preservatio... Africa: The Next Chapter 61 Talks In June 2007, TED held its first conference in Africa, titled "Africa: The Next Chapter. " Thought leaders from across... Animals That Amaze 77 Talks What do animals have to do with technology, entertainment, design and the world of ideas?
More than you might think. ... Twitter / Accueil. Artisans du Changement | Site officiel des Artisans du Changement. Mondialisation.ca. Newspapermap - All onlinenewspapers in the world.
---