Higher Priority - Sustainable Food
Welcome to PHLP | PHLP
People's Grocery - Healthy food for everyone!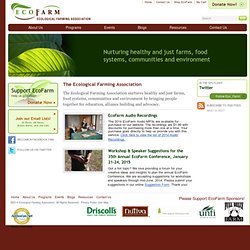 Welcome to EcoFarm | Organic, Sustainable, Local Agriculture | Ecological Farming Association
Nurturing healthy and just farms, food systems, communities and environment The Ecological Farming Association nurtures healthy and just farms, food systems, communities and environment by bringing people together for education, alliance building and advocacy. EcoFarm Audio Recordings The 2014 EcoFarm Audio MP3s are available for purchase on our website. The recordings are $1.99 with discounts for purchasing more than one at a time. Your purchase goes directly to help us provide you with this service.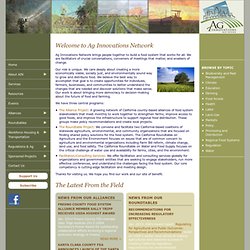 Ag Innovations Network: Building a Vibrant Food System
Ag Innovations Network brings people together to build a food system that works for all. We are facilitators of crucial conversations, conveners of meetings that matter, and enablers of change. Our role is unique. We care deeply about creating a more economically viable, socially just, and environmentally sound way to grow and distribute food. We believe the best way to accomplish that goal is to create opportunities for individuals, farmers, businesses, and communities to better understand the changes that are needed and discover solutions that make sense. Our work is about bringing more democracy to decision-making about the future of food and farming.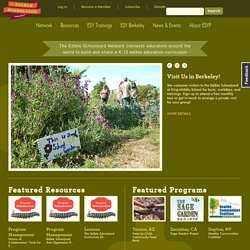 Don't miss this year's Edible Education 101 course, The Rise and Future of the Food Movement, instructed by Michael Pollan and Raj Patel at UC Berkeley. Twelve lectures will focus on the future of food through conversations with leaders of the food movement around the world. Lectures will take place from 6:30-8:30, beginning January 27th. Free tickets are made available for the public and all lectures will be recorded and posted online.
About Collective Roots | Collective Roots
Pesticide Action Network
Sustainable Agriculture Education (SAGE) promotes urban-edge farming and engages diverse populations in local, sustainable agriculture. Founded in 2001, SAGE is an entrepreneurial nonprofit that seeks to ensure that multifunctional agriculture – agriculture that provides food and other community benefits – is a key element of regional sustainability planning and that it is implemented on the ground in the San Francisco Bay Area and other regions. SAGE produces foodshed assessments, participates in regional agricultural planning and investment initiatives, creates urban-edge Agricultural Parks including the model Sunol AgPark, and provides sustainable agriculture education and outreach. Learn about SAGE's projects and impact through thisOverview Slideshow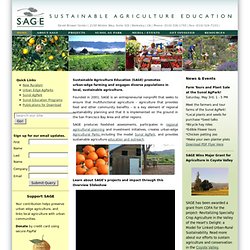 SAGE
- Pie Ranch