Gamification
Gamification and Instructional Design
Best Practices: Gamify Your Class with Moodle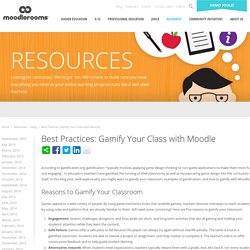 According to gamification.org, gamification "typically involves applying game design thinking to non-game applications to make them more fun and engaging." In education, teachers have gamified the running of their classrooms as well as incorporating game design into the curriculum itself. In this blog post, we'll explore why you might want to gamify your classroom, examples of gamification, and how to gamify with Moodle.
ict.aps.nl/ictatelier/leraren/artikelen/games_and_learning.pdf
Gamification: Using Game Mechanics to Enhance eLearning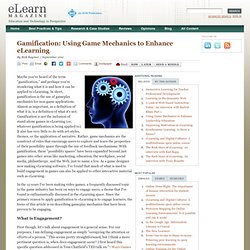 Maybe you've heard of the term "gamification," and perhaps you're wondering what it is and how it can be applied to eLearning. In short, gamification is the use of gameplay mechanics for non-game applications. Almost as important, as a definition of what it is, is a definition of what it's not. Gamification is not the inclusion of stand-alone games in eLearning (or, whatever gamification is being applied to).
Make iOS and Flash Games with StencylWorks
Design is a "Snap" Our drag-and-drop gameplay designer pays homage to the successful MIT Scratch project. We extend Scratch's simple block-snapping interface with new functionality and hundreds of ready-to-use blocks, including special blocks for native mobile features. Power users can create and share their own blocks, import existing code libraries and create custom classes that interact seamlessly with block-based Behaviors.